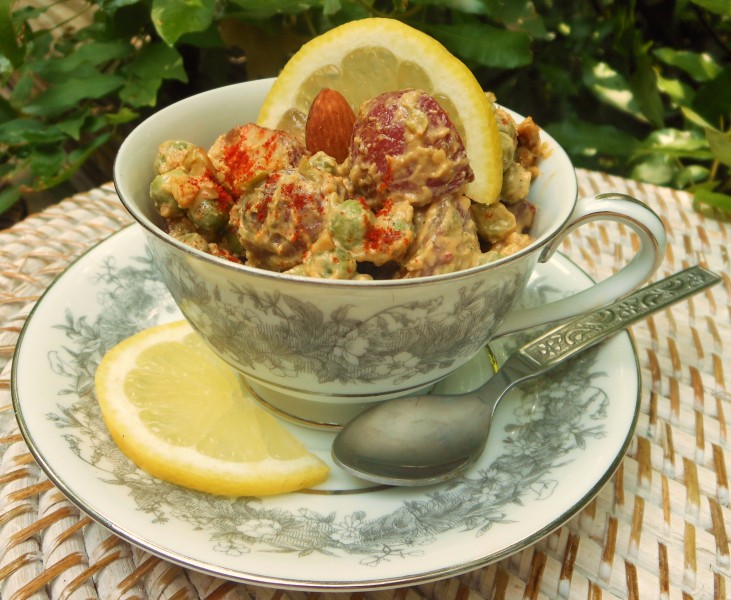 Yield: 4 to 6 servings
If you live in the US and this sounds good for your July 4 BBQ, I hope I've left you enough time to purchase the ingredients–or maybe you will have them on hand, as Independence Day snuck up on me this year!
The inspiration for this summer salad is that popular Italian dish of pasta with peas and, if you'll excuse me, bacon and cream.
I substituted red-skinned "creamers" (small potatoes) from the farmers market for the pasta, and added fresh cooked peas, also from the market, along with roasted red onion and chopped roasted almonds for crunch.
My version gets its smokiness from smoked paprika.  To reduce the amount of mayonnaise required, I pureed some of the fresh peas with the mayo for a beautifully textured and flavored creamy dressing.
Lemon zest brightens the salad like summer sunshine.  So, when trying to decide on a garnish, a big golden slice of lemon seemed the perfect touch.  And that made me think of a cup of tea, so I decided to serve this salad in one of my Nana's tea cups.  But it would look just fine–and a bit more masculine–on plain white plates at your next (vegan) barbecue!
1 tablespoon olive oil
1 1/2 pound small potatoes, quartered (like new potatoes; our farmers market calls them "creamers")
Sea salt
1 small red onion, halved and cut into 1/4-inch slivers which you can halve again (I used an enormous bulb from a red spring onion at our farmers market)
1 1/2 cups fresh peas, simmered in lightly salted water just to cover for 20 minutes, drained
1/2 cup vegan mayonnaise (prepared or homemade; I used Vegenaise)
1/2 teaspoon yellow or Dijon mustard
3/4 teaspoon smoked paprika
Zest of one-half of a large lemon
1/2 cup roasted almonds, coarsely chopped
Garnish: thinly sliced lemon, whole roasted almonds, pinch of smoked paprika
Preheat oven to 450 degrees.  Pour oil in the bottom of a large cast iron skillet or roasting pan, add potatoes and a pinch of salt and toss to coat.  Roast for 10 minutes, toss gently, and roast 10 more minutes.  Remove from oven, add onion, gently toss again, and roast for an additional 10 minutes.  Transfer potato and onion mixture to a large mixing bowl and allow to cool for a few minutes.  Set aside one-half cup peas and gently fold the remaining cup into the potato mixture along with more sea salt to taste.  Puree the half-cup peas with the mayonnaise, mustard, and paprika.  Spoon over salad, add lemon zest and chopped almonds, and gently toss to distribute dressing evenly.  Check for seasoning, and serve garnished as desired.