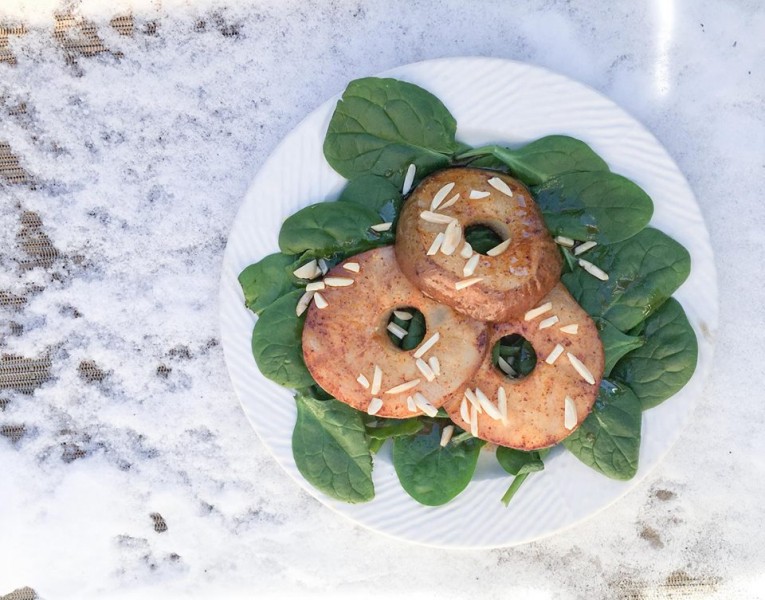 (A sequential installment from Kim Hastings, my photographer friend and, along with her vet husband, owner of Independence Veterinary Hospital, who decided on her own to cook her way through The Blooming Platter Cookbook: A Harvest of Seasonal Vegan Recipes Julie & Julia Style for her omnivorous family as a strategy for more healthy eating.)
If I were to channel a Southern Living or Martha Stewart magazine article, I would say today's recipe, Spicy Grilled Pear and Spinach Salad, is a delight to the senses. The preparation is effortless and the presentation would make a beautiful addition to a romantic Valentine's Day dinner.
But seriously, here's how it really went down. It is a well known fact that my family hates fruit anywhere near their salads. I would have to blindfold them to get them to try this recipe. I, on the other hand, love salads with fruits. So I prepared this just for me as my lunch.
First I prepare the vinaigrette but my whisk is in the dishwasher so I simply shake it up in a covered bowl. Done! Next I core and cut the pear. Unbelievably, I have a corer so I tried it out, but it left the core in the pear so I just popped the core out of each slice. Perfect! I prepared the marinade in a small bowl as directed but no way could I get the pears coated in there so I scraped the marinade out with my finger (spatula also in dishwasher) and straight into a ziploc bag and threw in the pears. That works.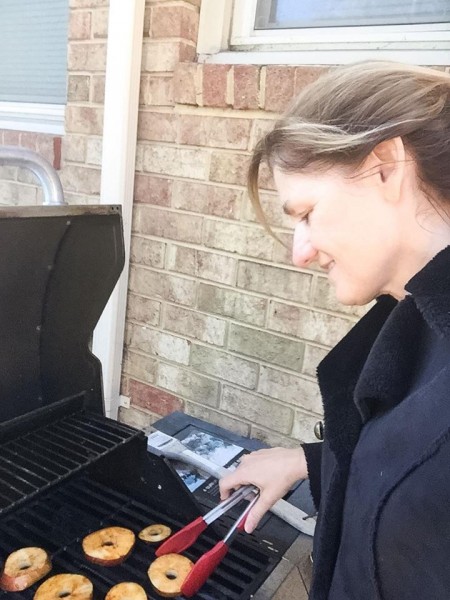 Ok wait. I don't own a grill pan so how will I get the desired grill marks?? You got it – 14 degrees outside and I'm wiping snow off the grill and firing it up. I will have grill marks! I lay the pears all out and wait two minutes as directed. No grill marks. Ok fine. Two more minutes. No grill marks. This went on for 14 minutes. Once I saw a faint grill mark appear I placed them on a plate and went inside. Looking at the photo now, I may have been imagining the grill mark but I was freezing!
Finally I got to arrange it all on the plate and decided the photo should be taken in the snow. Once I brought the plate back inside, there was snow all over the bottom, so I tried to wipe it off and almost dropped the whole beautiful plate right in the sink. Story of my life! Almost!
I have to admit that, while crunching on the smaller pears as I waited at the grill, I wasn't sure about this recipe – that is until I tasted all the flavors together, including the toasted almonds. Incredible! Seriously incredible! So far I have really liked every recipe. But then again I have not chosen one with tofu yet. Stay tuned!
~Kim Howard Hastings