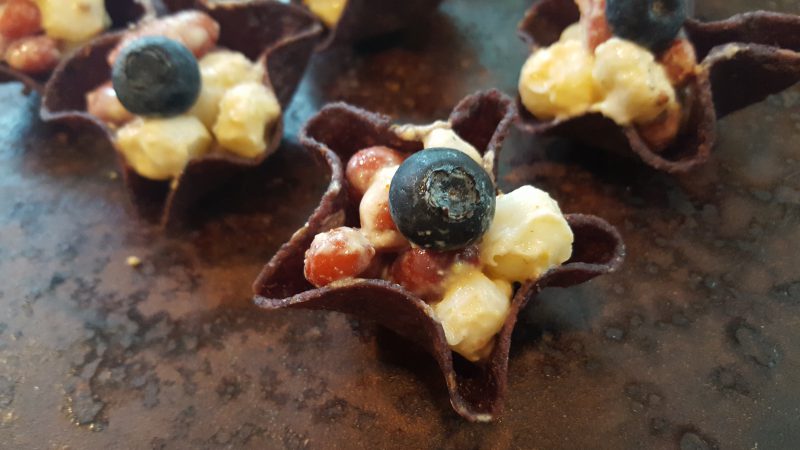 Yield: 4 servings
When Joe was alive (that would be just last July 4), we weren't much on traditonal July 4 celebrations.  Without either of our families here, the backyard family BBQ was not part of our repertoire, and we weren't devoted "beach people,"–though I love to walk/hike on the beach–so Independence Day would not find us picnicing or out on "the boat" with patriotic fare.
But this year, Kelley, a young female attorney from Joe's office–someone who he mentored and whose work he respected–is becoming a good friend and invited me to her family's festivities at her father's in-town lake house.  Wanting to contribute something to the feast, but not quite sure what since I don't know her family's likes and dislikes, I had to channel my late mother.  She loved theme food and theme attire for just about any holiday.
Being somewhat of a "lite and healthy" eater, I decided on a protein-rich salad of red beans and white hominy.  When I saw that, based on the photo on the bag, blue corn chip "cups" look like stars, I knew I would make little salad cups.  After I had made them, though, I felt the  "blue" component needed to be more "true blue," as the chips are so earthy.  I had blueberries on hand, but I was a little skeptical, despite liking fruit in savory dishes.
There was no need to worry, as the berries provide a little burst of juicy freshness that compliments the lime-spiked sour cream-based dressing perfectly.  And if you want a little fireworks on your tastebuds, I think a hint of minced red jalapeno would be just the ticket.
Happy Independence Day!
Red-White-and-Blue Salad
(Best made at least 2 hours before serving.)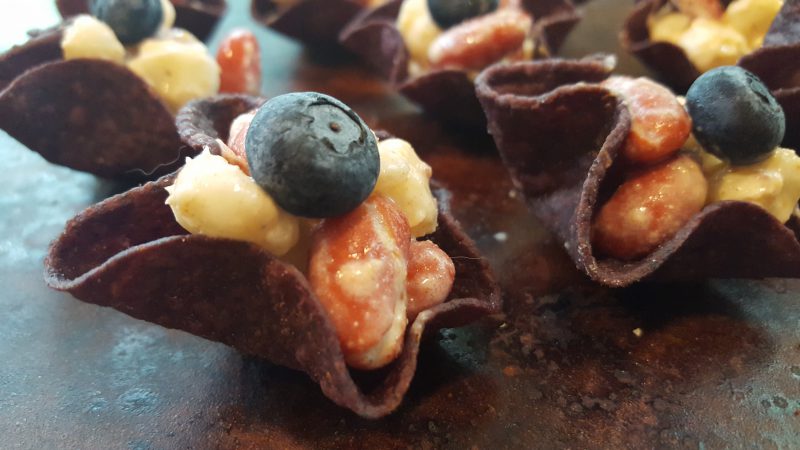 1-15.5 ounce can dark red kidney beans, rinsed and drained
1-15.5 ounce can white hominy, rinsed and drained
2 tablespoons vegan sour cream (or mayo)
1 teaspoon fresh lime juice
1 teaspoon Liquid Aminos or soy sauce
1 teaspoon granulated sugar (I use demerera)
1/2 teaspoon stone ground mustard
1/4 teaspoon ground cumin
1/4 teaspoon garlic powder
1/4 teaspoon onion powder
1/4 teaspoon smoked paprika
Optional: 1 tablespoon nutritional yeast and/or 1/4 teaspoon minced red jalapeno pepper (Seeds and membranes removed), or to taste
Coarse sea salt and freshly ground pepper to taste
Garnish: Fresh blueberries, rinsed and dried
In a medium bowl, combine beans and hominy.  In a small bowl, whisk together all remaining ingredients except blueberries, pour over beans and hominy, and toss gently to combine.  Chill for a couple of hours, if possible, to allow flavors to marry.  Serve in blue corn chip "cups" garnished with a fresh blueberry.