If you have never enjoyed roasted oranges, skin and all, what are you waiting for?!
When I accepted a position teaching upper school art at Norfolk Academy in July, I had no idea that breakfast and lunch prepared by the talented refectory staff were part of the incentive package. And what an incentive. I am not a breakfast-eater, but I relish my specially-prepared vegan lunches.
We joke that the Academy owns an orchard, as we are fed a bounty of apples and oranges, tucked into our lunch bags. I find whole fruit a little messy to eat–I am not a fan of juice running down my chin–so by the end of each week, I have a collection of whole fruit. From the apples, I make bundt cakes once or sometimes twice a week for faculty members and staff. Sometimes, I use fresh oranges for the liquid.
But, when it occurred to me that roasted oranges in a salad might be a delicious way to use them, I conducted some research, experimented, developed this recipe, and never looked back. Try not to drink the dressing; it is that good.
Make dressing first:
Smokey Orange Dressing
*1/4 cup orange infused vinegar (I buy Orange Blossom Vinegar at Harris Teeter)
*1/4 cup orange infused olive oil (I buy an rosemary-orange variety at Harris Teeter)
1 tablespoon hot chili oil (see my recipe on this website)
2 large cloves garlic, minced
1/4 to 1/2 teaspoon smoked paprika
1/4 to 1/2 teaspoon sea salt
Note: you can substitute sherry vinegar and plain olive oil plus zest of 1 small orange
Whisk together all ingredients in a small bowl.
Serve dressing over arugula with diced red onion, roasted oranges (recipe follows), and roasted pistachios.
Roasted Oranges
Slice oranges 1/8 to 1/4-inch thick. Place on foil or parchment paper on rimmed baking sheet. Drizzle lightly with olive oil and sprinkle lightly with sea salt. Roast oranges at 425 degrees for 20 minutes.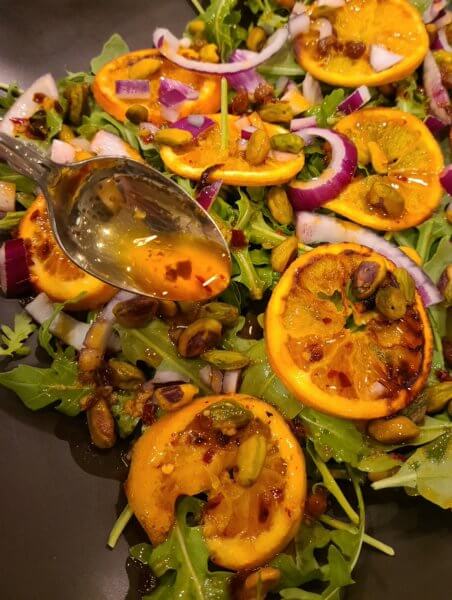 #vegan #veganrecipes #veganfoodshare #veganfoodporn #plantbased #plantbasedrecipes #plantbasedfoodshare #plantbasedfoodporn #roastedoranges #roastedorangesalad