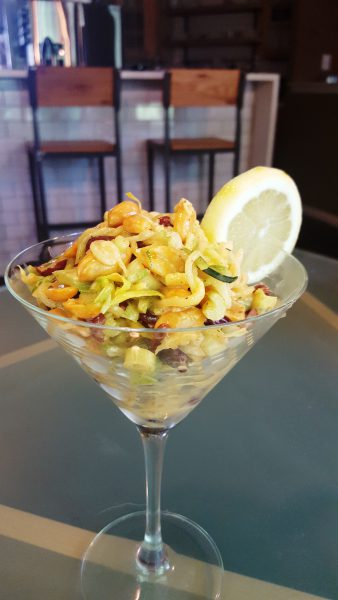 Lately, I will spiralize most anything that isn't quicker than me.
Actually, that's not true.  A friend did give me a Spiralizer that I have yet to break out of the box.  But, so far, I have purchased a variety of colorful vegetables already cut into those long, luscious threads.
I'm not a "raw vegan," but I do find that these thin, spiraling threads do not need cooked, not even the sweet potato, though you could certainly blanch them if you prefer.  I favor the flavor, texture, and color "as is."
This slaw was inspired by my beloved NOLA.  It combines super heart-healthy dark red kidney beans with spicy peanuts, cajun seasoning, and a few other key ingredients with a blend of spiralized zucchini and yellow squash for a refreshing, luscious, and lovely–especially when served in a martini glass–heck of a zippy slaw.
Rice would be the more natural choice, i.e. red-beans-and-rice, but I just can't find much to recommend calorie dense, carb rich, and nutrionally lacking white rice.  Hence the light colored spiralized squash which is such fun to eat.
It appears that Bob and I are going to a restaurant for July 4 with his family, as the family matriarch is recovering from a back injury and prefers not to entertain; but if we weren't, I would certainly be taking this dish as my potluck contribution.
Note: the number of cups listed on the back of spiralized vegetable packages is usually less than my measurements as I very loosely pack it, while it appears that they must compress it a bit more.  This is, I always end up with significantly more than the package indicates.
3/4 cup vegan mayonnaise (or to taste)
Juice of 1/2 large lemon
1 tablespoon cajun seasoning (I used one with lots of spices, but none of them with a lot of heat)
2 cups spiralized zucchini (loosely packed)
2 cups spiralized yellow squash (loosely packed)
1 cup diced celery (about 4 celery hearts, sliced lengthwise and then thinly sliced crosswise)
2 green onions, thinly sliced, both the white and green parts (about 1/2 cup)
1 can dark red kidney beans, rinsied and drained
1 cup spicy peanuts
Sea salt and freshly ground black pepper to taste
Garnish: thin lemon slices with a cut from outer edge to center
In a large bowl, whisk together mayo, lemon juice, and cajun seasoning.  Add remaining ingredients and gently toss to evenly distribute dressing.  Check for seasoning, and add salt and pepper as needed.  Serve in glasses with a slice of lemon "hung" on the rim.