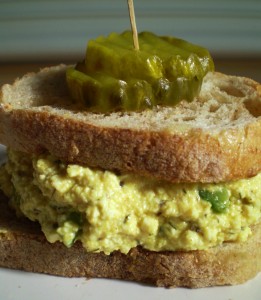 Goodness Bakeshop has named my Vegan Egg Salad as #12 in her List of Top 50 Vegan Recipes, and it tops her list for lunch choices!  Click on the link and check out her delightful virtual bakery.
Note that her link to my recipe will take you to my old site, but if you're reading this, you know where to find me now!
Yield: approximately 2 cups
As a vegetarian, one of my all-time favorite old-fashioned sandwiches has to have been fluffy egg salad. Once I became a vegan, I figured they were a thing of the past. Happily, that turned out not to be the case. However, all tofu egg salad recipes are not created equal. I have made recipes and tasted purchased varieties that didn't satisfy the craving. But this creation made the grade.
Feel free to adjust proportions to suit your taste, but do keep in mind that, while it is an indispensable ingredient to an authentic taste, celery seed is a little bitter, so avoid over-doing it. Also, if you don't eat sugar, you may leave it out. I found, though, that because boiled eggs are ever-so-slightly sweet–at least according to my best recollection–the sugar is a necessary addition if authenticity is your goal. Similarly, I use apple cider vinegar for its subtle sweet note but, by all means, use white vinegar if you have it on hand or even dill or sweet pickle juice.
14 ounces firm tofu, drained (not Silken–a test proved it to be unsatisfactory)
1 1/2 teaspoon black salt (available at Indian markets or online) or sea salt or to taste
2 stalks of celery, trimmed, sliced vertically into 4 strips and sliced thinly crosswise
3 tablespoons vegan mayonnaise
1 tablespoon apple cider vinegar
1/2-1 teaspoon yellow mustard
1 teaspoon onion powder
1/2 teaspoon garlic powder
1/2 teaspoon turmeric
1 1/2 teaspoon celery seed
1 teaspoon dried dill weed or 1 tablespoon fresh minced dill
1 teaspoon natural sugar
salt, freshly ground black pepper and sugar to taste
Mash tofu with salt in a medium-size bowl using a potato masher or a fork. Don't worry about over-mashing, as the texture seems to improve with additional mashing. Fold in celery with a fork. Whisk together all remaining ingredients except additional salt, black pepper and sugar. Pour over tofu mixture and mash until dressing is completely incorporated. Adjust seasoning with salt, pepper and sugar if needed. Store in an airtight container in the refrigerator.