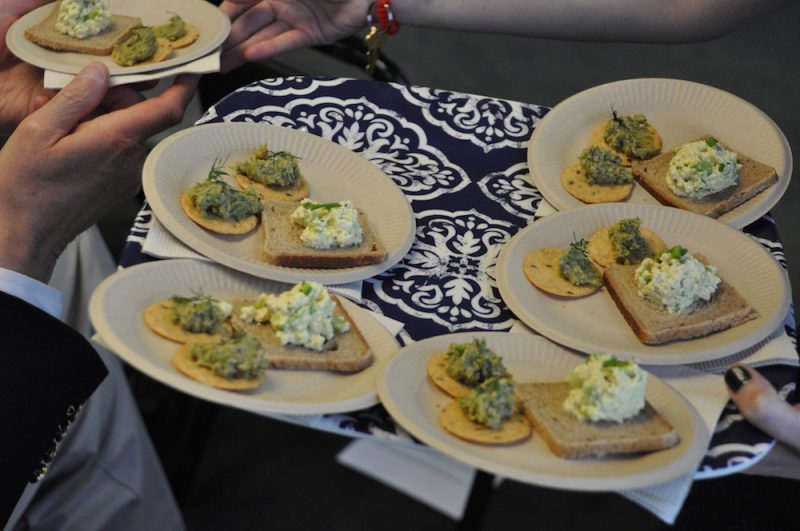 (For the Recipes, scroll down about half way to the links.)
Not many things would make me grocery shop and cook for four hours on a Friday night with a fever, congestion in every passage from my neck up, and a cough that would cause mothers to gather their children to their skirts.
But a cooking demonstration for PETA donors was one of them.
I am fortunate to live basically in the back yard of PETA's East Coast headquarters, located in Norfolk, VA.  A resident of the neighboring city of VA Beach, I am even more fortunate to have been asked to give a cooking demonstration for 45 of their major US donors on Saturday, May 14.
Those individuals in the group who don't reside in our area flew themselves to Norfolk to join local donors where they were treated to a weekend of information sessions from upper level PETA executives, wonderful vegan meals, comfy lodging, my cooking demonstration, and more.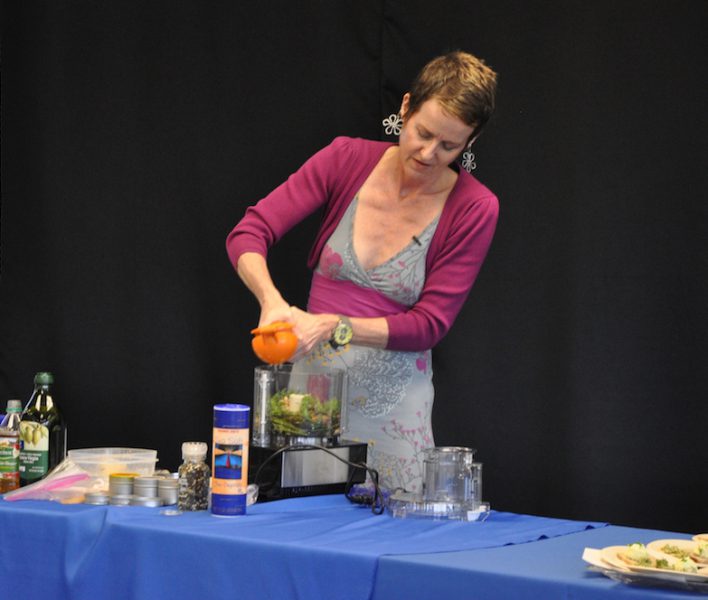 I cannot say enough positive things about both the PETA's East and West Coast staff, how they welcomed me, and how they worked together seamlessly to run a tight ship.
Arriving a bit early to their sunny office building moored along the riverfront, I was met by the loveliest, professional, but relaxed and helpful women and men who made my job easy.  We loaded a cart, efficiently developed a serving plan, and everyone slid right into their roles.  The most challenging aspect of the whole presentation was finding somewhere to attach the lavalier mic on my rather skimpy dress, discreetly covered by a sweater, I should hastily add.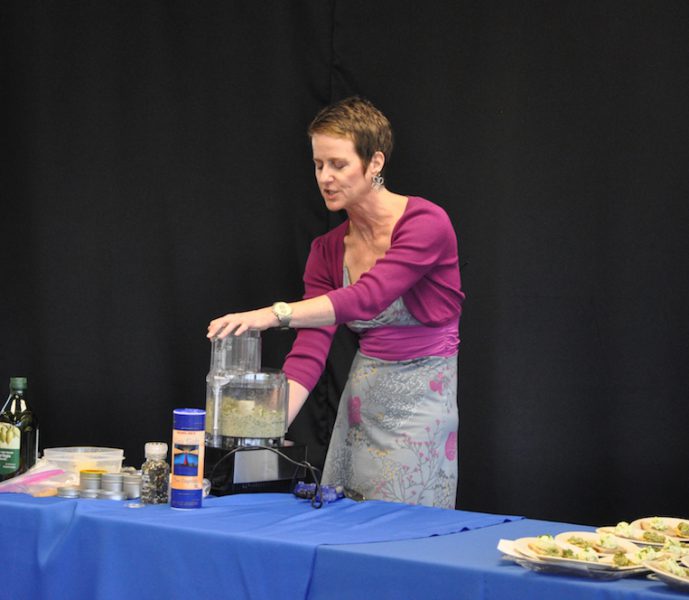 The demo took place on a stage in a meeting room, supported by a cracker jack AV team, for the hour just before lunch, so I didn't want to prepare anything sweet or that would conflict with their tasty vegan bento boxes from Kotobuki on Colley Avenue in Norfolk.  The PETA staff members, who have plenty of these demos under their belts, steered me away from hummus–it's so ubiquitous as to have become the Pasta Primavera of vegan hors d'oeuvres–and anything with the misunderstood mushroom.  So they enthusiastically agreed on the most popular recipe on my entire website: Tofu Egg Salad with its "dark secret" (of Indian black salt that tastes and smells exactly like boiled eggs) on thin slices of rye party rye bread and my very springy dill-scented Smoky Grilled Asparagus and White Bean Spread on rice crackers.  Both, I am humbled to report, were big hits, especially the egg salad.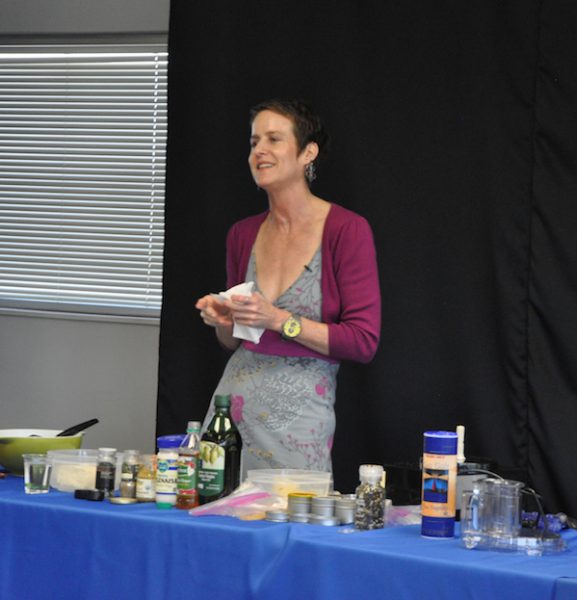 I am similarly gratified that my demo was so well-received.  One of the staff members shared that they have presented many of these and that they are often "dry," but that mine wasn't.  I have to admit that I was a bit relieved, as I had come down with a fever after school on Thursday, worked Friday still with a fever because progress report grades were due, rallied to grocery shop and prepare ingredients Friday night (missing my beloved candlelight yoga class) and half a day Saturday.  Afterwards,  I drove straight home, climbed into bed and stayed there until Monday when my fever finally broke.
But the show had to go on and it was completely worth it.
A big thank you to PETA and to my contact, Megan Eding.
Fun Note:  A couple of weeks after the demo, I received this lovely email from Barry M. from Baltimore who were in attendance:
Hi Betsy,
We attended the PETA Leadership weekend in Norfolk and were at the cooking demonstration you gave.  I was so excited about the tofu egg salad recipe because I used to love egg salad and had given up eggs years and years ago.  I couldn't wait to get home, order the black salt, and try out your recipe. I got the black salt on Amazon.com, whipped up a batch using Hampton Creek mayo and the result was spectacular.  Even my spouse Tom loved it, and he is a picky eater when it comes to vegan eating.  This recipe will now be a permanent addition to our cook book binder and we can't wait to share it with our non-vegan friends and fool them – they won't know the difference and I'm sure will enjoy it as much as we do.
Thanks so much to giving that demonstration and sharing this wonderful recipe.  Looking forward to checking out more recipes on your web site and trying them out.
Sincerely,
barry m