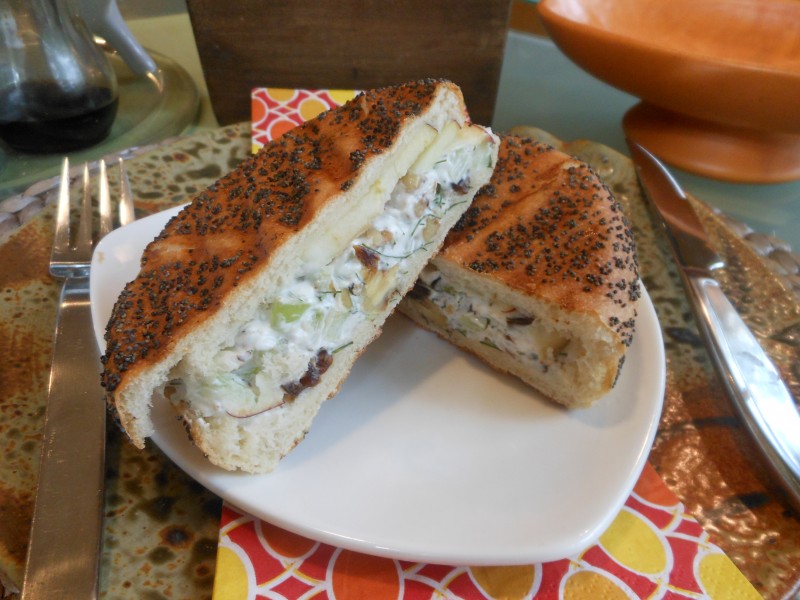 A favorite cold, creamy, and crunchy salad from childhood made into a warm, toasted, grown-up sandwich, popular with all ages.  
Why?  Yesterday was National Sandwich Day and Tofutti Brands requested a new sandwich recipe made with one of their tasty ingredients.  You can see my guest post HERE.  Note that I use the Tofutti products made without transfat; be sure to read the labels.
Waldorf Panini
Yield: 1 sandwich
3 tablespoons Tofutti Better Than Cream Cheese, softened
2 tablespoons chopped walnuts (toast for even more flavor)
1 celery heart, sliced lengthwise into quarters, and finely chopped
1 date, finely chopped
Pinch sea salt and freshly ground black pepper
Pinch no salt all-purpose seasoning
Optional: 1-2 teaspoons minced fennel fronds
1/4 apple, cored and sliced very thin
1 bagel or sandwich roll, halved, or 2 slices whole grain bread
Preheat panini grill.  In a small bowl, using a fork, combine all ingredients except apple and bread.  Spread on bottom slice of bagel, roll or bread.  Stack evenly with apple slices and top with remaining slice of bagel, roll, or bread.  Grill for 2 to 3 minutes or until toasted and golden brown.  Halve and serve immediately.  Note:  if you have no panini maker, just prepare as a grilled cheese sandwich in a cast iron skillet using  a little vegan butter or oil in the pan.