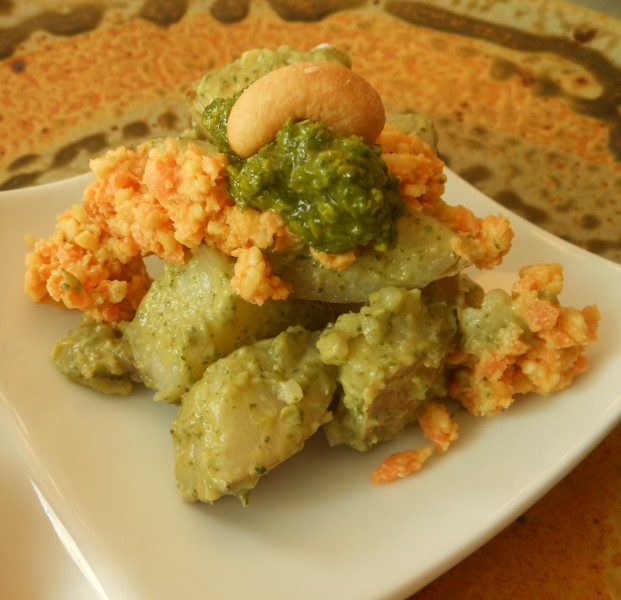 This recipe is a two-fer: my delicious Cilantro-Mint-Chili Pesto is tasty enough to eat with a spoon, never mind the potato salad!  Use this versatile pesto, which can be nudged in a more Indian or Thai direction, in noodle dishes, rice dishes, soups, sandwiches, appetizers like crostini, and more.
Make it first so that you have it on hand to quickly stir into my potato salad whose topping puts it right over the top!  I pulse together carrots and cashews in a food processor, seasoning them only with a pinch of black salt for that inimitable, slightly sulfur-y "boiled egg" flavor, so perfect for potato salad.
Cilantro-Mint-Chili Pesto
Yield: approximately 3/4 to 1 cup
4 ounces cilantro leaves and tender stems, rinsed and dried
1 ounce mint leaves and tender stems, rinsed and dried
1 serrano chili, seeded
1/4 cup unsweetened coconut
Juice of 1/2 of a large lime
2-3 tablespoons natural sugar or agave nectar
1/4 cup olive oil
Pinch sea salt to taste
Place cilantro, mint, chile, and coconut in a food process and pulse to finely chop (this took about 30-35 pulses in my processor).  Add lime juice and 2 tablespoons of sugar or agave nectar, and pulse to fully incorporate.  Taste and add another tablespoon of sugar or agave nectar, if desired.  With motor running, stream in olive oil.  Season with a pinch of salt.  Adjust seasoning if desired and store in refrigerator in an airtight container.
Potato Salad with Cilantro-Mint-Chili Mayo with Carrot-Cashew Topping
Yield: 4 servings
1 1/2 pounds russet potatoes (or whatever kind you have on hand, even sweet potatoes), cubed (I leave the skin on for nutrition and color contrast)
5 tablespoons vegan mayonnaise
2 to 3 tablespoons Cilantro-Mint-Chili Pesto
Sea salt to taste
Freshly ground black pepper to taste
1/4 cup raw, peeled carrot, cut into 1 inch chunks
1/4 cup lightly salted and roasted cashews (halves and pieces are fine)
Pinch black salt or to taste
Garnish: Additional pesto and cashews
Simmer potatoes in salted boiling water over medium-high heat, loosely covered, until tender, approximately 10 minutes.  Rinse under cold water and drain. In a medium bowl, whisk together mayonnaise, pesto, and a pinch of salt and pepper.  Add potatoes and fold together with mayo-pesto mixture until well-combined.  Taste and correct seasoning as desired.   In a food processor, pulse together carrots, cashews, and black salt until finely chopped (not mashed).  Taste and adjust seasoning if necessary.  Serve potato salad topped with Carrot-Curry mixture and garnish each serving with a dollop of the pesto and a cashew.