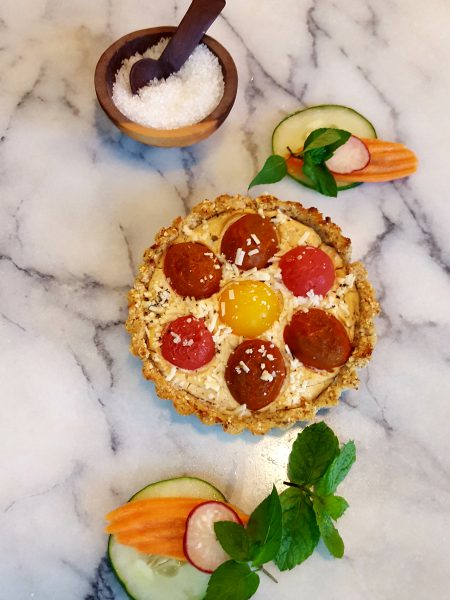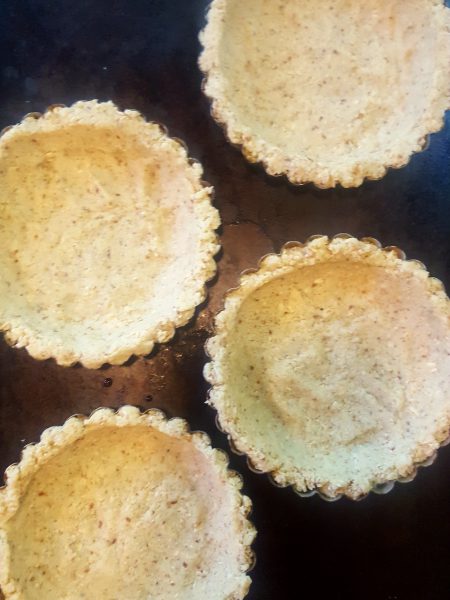 Yield: 4 4-inch mini tart shells or 1- 8 or 9″ tart shell
Wow!  My recipe contains no eggs or dairy, no fat, no nuts, and no pre-cooking of cauliflower.  But it boasts so much flavor with so few ingredients.
Note: this recipe is also gluten-free IF oats have not been cross-contaminated during processing.
The resulting crust is more tender than crispy, though it does yield delightfully crispy top edges. The doigh is so easy yo work with and the bsked crust holds its shape beautifully.  It is now my go-to savory crust.
2 1/2 cups cauliflower florets, the size of a walnut or smaller
1/2 cup old fashioned oats
2 tablespoons nutritional yeast
2 tablespoon chia or flax seed meal
1/8 to 1/4 teaspoon each garlic powder, onion powder, sea salt, and freshly ground black pepper
Preheat oven to 400 degrees. Grease 4 4-inch  mini tart pans with nonstick cooking spray–or 1 8- or 9-inch–and place on a baking sheet. Place all ingredients in bowl of food processor and process until mixture comes together in a homogeneous dough, approximately the consistency of cookie dough.  Divide dough evenly among tart pans–or transfer to single tart pan–and press into bottom and sides to achieve an even thickness throughout. Bake for 10 minutes, remove from oven, fill as desired, and bake as directed in your recipe, optimally about 15 to 20 minutes at around 400 degrees.
If you would like to make the tasty version depicted, here is my simple recipe:
Cherry Tomato Tarts
16 ounces firm tofu, drained
Optional but recommended: zest of 1/2 large lemon
2 tablespoons Liquid Aminos
2 tablespoons stone ground mustard
2 tablespoons nutritional yeast
1/4 teaspoon each garlic powder, onion powder, and smoked paprika
14 grape tomatoes, halved (I like the tri-color variety)
Optional: 2 teaspoons vegan shredded parmesan
Leave oven heated to 400 degrees. Place all ingredients except tomatoes and cheese in food processor–there's not even any need to clean it out after making the crust dough–and process until smooth. Divide evenly among tart shells–or scrape into one large tart shell–and gently smooth the tops. Arrange grape tomatoes over on the surface, sprinkle with cheese, and bake for 15 to 20 minutes. Let cool until pans can be handled and then remove tarts from pans by pushing up on the removable bottoms. Serve warm, room temperature, or cold garnished as desired.