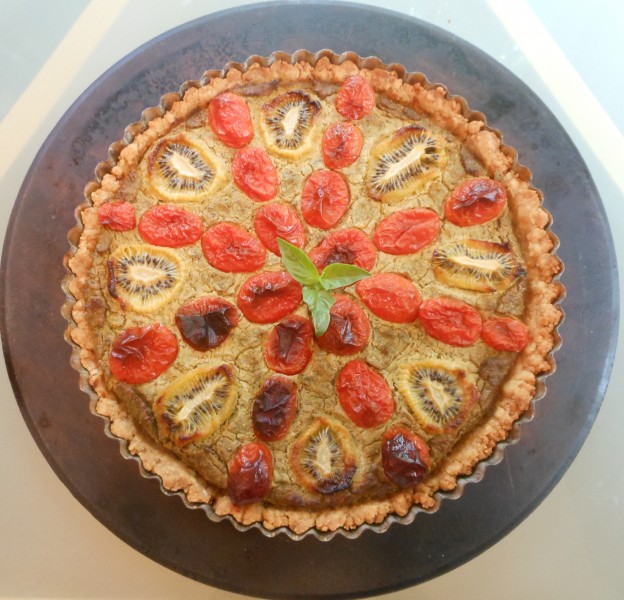 Yield: 8 servings
I am on a savory spring tart kick.  First asparagus, kale, and strawberries; now cherry tomatoes, kiwi, and kale.  In art teacher lingo, the colors are still that appetizing "complementary" combination of red and green, but I was craving tomatoes–and it's not yet tomato season, so I went with the cherry variety–and needed a contrast in color.
Kiwi in a savory tart may sound somewhat odd, but it is similar to incorporating fruit into, say, a spinch salad or, perhaps more to the point, a salsa.  In a word: addicting.
In this tart, the tomatoes become lightly charred for an even more delectable and complex flavor.  I love a slice served with a drizzle of white balsamic reduction, available at our local Kroger.  You can make the reduction, if you prefer, by slowly simmering the vinegar, but I get in a hurry and create shellac, so I purchase it.  I also tuck on a garnish of fresh basil.  Yes, I know that one is "supposed" to only use herbs as a garnish if they are included in the dish, but it just looks so pretty and I am happy to enjoy that burst of freshness from the basil because it complements the tart even though it is not baked into it.
Rules, scmules.
Vegan Presto! Press-In Pie Crust
1 ½ cups all-purpose or whole wheat flour or half of each (I prefer all whole wheat)
1 teaspoon sea salt
2 teaspoons sugar
½ cup canola oil
2 tablespoons plain or unsweetened non-dairy milk (I use soymilk)
Preheat oven to 400 degrees. In a medium bowl, stir together dry ingredients, make a well, add wet ingredients, and stir together with a fork, just until combined.  Press the crust into the bottom and sides of an 8-inch tart pan with removable sides.  (Pressing with the bottom of a sturdy glass can be helpful in achieving a uniform thickness and neat appearance.) Bake for 10-12 minutes or until set and slightly browned (or, if not making this quiche, bake according to the directions for whatever recipe you are making). Leave oven on when you remove the crust. Note: this crust, made with whole wheat flour, made beautiful, sturdy 4-inch tart crusts that held up perfectdly even when removed from the tart pans and slid off their removable bottoms.  I suspect the same would be true of mini-tarts made with my go-to choice of white whole wheat.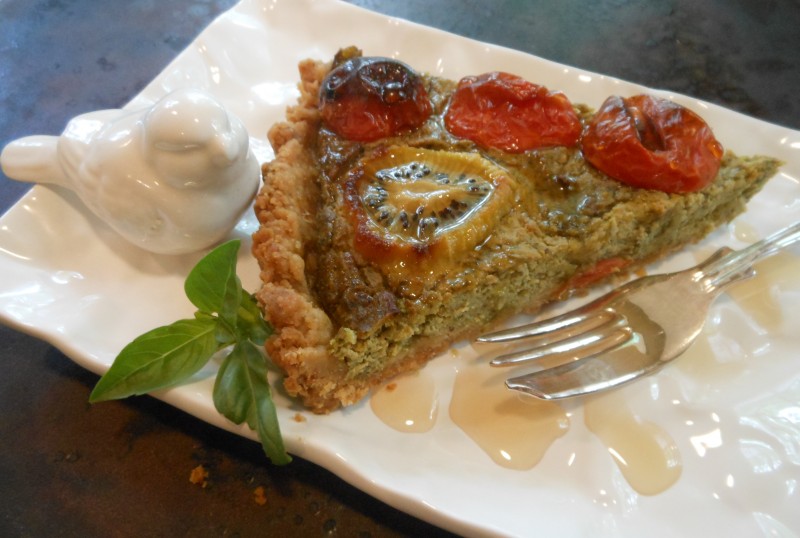 Vegan Cherry Tomato, Kiwi, and Kale Filling
1 tablespoon olive oil
1 medium yellow onion, fairly finely chopped
3 large cloves garlic, minced
14 ounces extra firm tofu, drained
½ cup unsweetened or plain nondairy milk (I use soymilk)
1 tablespoon Dijon mustard
2 teaspoons vegetable powder (or 1 vegetable bouillon cube, crumbled)
¾ teaspoon sea salt
¼ teaspoon fresh grated nutmeg  (there's something about fresh!)
¼ to ½ scant teaspoon red pepper flakes
Freshly ground black pepper to taste
Optional: 2 tablespoons nutritional yeast or grated vegan Parmesan cheese
2 cups lightly packed chopped kale
Approximately 12 cherry tomatoes (amount will vary depending on size, as they need to fit end to en from center of tart to edge to create a radius, if you will)
8-1/2 inch slices kiwi (purchase 2, as you'll need more than  1 and can enjoy the leftovers)
Optional garnish: white balsamic reduction (homemade or available in most grocery stores) and fresh basil sprigs
In a large cast iron skillet, heat olive oil over medium-high.  Add onion and saute, stirring frequently, for about 3 minutes.  Add garlic and saute, stirring, for another minute.  Remove from heat.  Place all ingredients, including sauteed onion and garlic, except kale, cherry tomatoes, kiwi, and optional garnishes, in the bowl of a food processor and process until smooth, scraping down the sides of the bowl as necessary.  Add kale, submerge it into the filling mixture with a spatula, and process again until kale is very finely chopped and well-distributed, but not pureed unless that is your preference.  Scrape mixture into tart shell, lightly spreading to the edges of the tart and smoothing the top.  Arrange cherry tomato halves, end to end, in evenly spaced spokes.  Place kiwi slices between each spoke, spritz or brush tomatoes and kiwi with olive oil, and bake tart for 35 minutes or until set.  Remove from oven, let rest 10 minutes on a wire rack, carefully remove sides and serve slices with a drizzle of white balsamic reduction and a sprig of fresh basil.