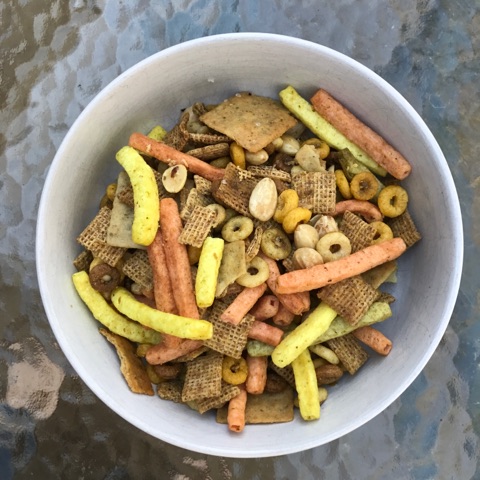 I just can't stop. This is Chex Mix # 6 of 2017 and it is only February.
I gifted it to a couple who took me to dinner last night, as Bob had had to work late on a major project.  Dear friends and gourmet vegan cooks, Juan and Barbara Gelpi, wanted to introduce me to Ethiopian food at a small, charming cafe in VA Beach called Mesob.  (A mesob is a  a large colorful woven basket with a tall pointed lid and hole in the center; people sit around a mesob at mealtime with the food on a gebeta or large platter in the center.)
The Gelpis were veterans, but it was a new experience for me.  I discovered that I would eat just about anything scooped up in Injeri–so unbelievably bubbly and spongy–and will go back many times.
In the meantime, I will keep making one delicious batch of Chex Mix after another and sharing it with you, though warm weather is coming and I will probably curtail my experiments for the spring and summer.
After last night's Ethiopian immersion experience, you can expect a berbere spiced batch.  For now, please enjoy my Chex Mix Italiano.
3/4 cup vegan butter
1/4 cup vegan basil pesto
1/4 cup vegan artichoike tapenade or pesto
5 cups wheat Chex Mix
4 cups Cheerios
1 1/2 cups Marcona almonds
1 1/2 cups veggie sticks
1 cup small rosemary and sea salt crackers (use any brand you love; mine came from Whole Foods)
1/3 cup pine nuts
Sea salt and black pepper to taste
Optional: red pepper flakes to taste (for a little bit of heat)
Preheat oven to 250 degrees. Place butter in large roasting pan, slide into oven, and allow butter to melt.   Stir in both pestos or pesto and tapenade.  Then stir in remaining ingredients, one at a time, in order, to coat evenly with butter mixture.  Roast for 1 hour, stirring well up from the bottom every 15 minutes. Remove pan from oven, allow to cool, and package mix in airtight containers.