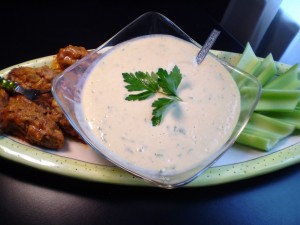 The SuperBowl wouldn't be the SuperBowl without "wings."
But make sure the only animal in your celebration is the pigskin on the field with my authentic-tasting Vegan Buffalo Wings.  You'll love their chewy texture and their finger-lickin' sauce.   They are absolutely habit-forming with my Creamy Blue "Cheez" Sauce and crunchy celery sticks.
Oh, there is one more animal that we hope will be part of the big game:  Huff, our Great Dane.  Read all about his chance at national stardom in the Doritos "Crash the Superbowl" commercial competition here.
For 150 other seasonal recipes for every occasion, I invite you to peruse The Blooming Platter Cookbook.