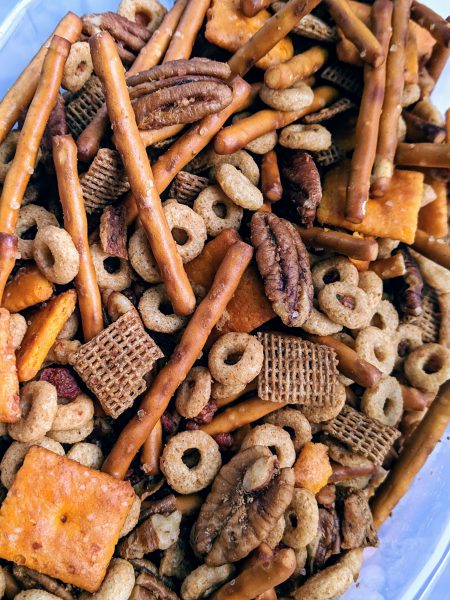 My favorite Chex Mix recipe is whichever one I have just created. So this rich mix is my current favorite. It was created for a bourbon-loving friend's birthday but enjoy it for any occasion or no occasion at all.
Casting around for a logic behind ingredient selection, I decided to go with other flavors associated with the Bluegrass State in addition to Bourbon: bacon and pecans.  Bacos are vegan, though they're not necessarily health food, so that choice was easy.
I was going to use Rye Chex, but you can't find them anymore, or I couldn't, and I even searched online, so I went with wheat. The cheese crackers and fried onions are because, well, I just love those flavors with smoky bourbon, smokier bacon, and sweet, earthy pecans.
Plus, the cheese crackers lend some color contrast. Brown Chex Mix may taste great, but it doesn't do much in the appearance department.
The Cheerios and pretzels are for shape and texture contrast and Chex Mix just isn't Chex Mix without both where I come from.
1 cup vegan butter
1/3 cup bourbon
2 tablespoons Liquid Aminos
2 tablespoons maple syrup
1 tablespoon celery seed
1 tablespoon garlic powder
1 jar Bacos (they are vegan!)
16 ounces pecan halves
4 cups Cheerios
3 cups pretzel sticks
3 cups Wheat Chex
1-6 ounce box Earth Balance Cheese Squares
1-6 ounce can fried onions
Preheat oven to 275 degrees.  Melt butter in oven in a large roasting pan, carefully remove from the oven, start animating ingredients, and roast for 1 hour, stirring every 15 minutes. Cool completely in store in airtight containers.
#vegan #veganrecipes #veganfoodshare #veganfoodporn #plantbased #plantbasedrecipes #plantbasedfoodshare #plantbasedfoodporn