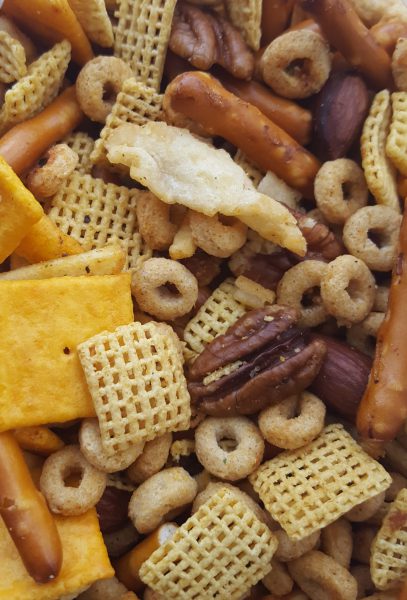 As I confessed in a previous post, I am darn near obsessed with rolling out new iterations of Chex Mix.  My adored late mother is, no doubt, doing her own share of rolling–as in rolling over–because she prefered classic, unadulterated versions of virtually all recipes, including her hallowed Texas Trash (aka Chex Mix) which made its annual appearance only at Christmas.
With new traditions the focus this Christmas, the second without her or my similarly adored late husband, I never made the Chex Mix, but I have been making up for it ever since with the creation of recipes for Taco-Fajita Chex Mix, Asian Chex Mix, Thai Chex Mix and, now, Mesquite BBQ.  The latter is COMPLETELY different from BBQ potato chips of which I am not a fan, as I find the flavor overpowering.  My Chex Mix is more subtle and complex.
If you are a purist when it comes to whole foods, fresh herbs, and shopping the perimeter of the grocery store–as I usually am–allow me to introduce you to the spice mix aisle where the McCormick brand rules in my local Kroger, though there are others.  It is a treasure trove of inspiration for, in my case, Chex Mix.
Perhaps my greatest contribution to the world of Chex Mix is the addition of ingredients not typically found in these mixes, e.g. Earth Balance "Cheddar" Crackers, French's Crispy Onions (of green bean casserole fame), and Potato Sicks (my Asian versions include the likes of Chow Mein noodles, sesame sticks, and wasabi peas).  For this variety, I chose Corn Chex, as cornbread is the perfect accompaniment to (vegan) BBQ; Cheerios and pretzels because I love the contrast of shape and texture; "cheese" crackers, potato sticks, and crispy onions because, when I was a vegetarian in Nashville, I loved a potato, onion and cheese side dish with a crispy topping at the local BBQ joint; and pecans because I associate them with Texas and the south where BBQ rules.  But, I added some smoked almonds too because there is no such thing as too many nuts and because the smokiness is perfect in this BBQ-inspired iteration.
Choosing spice packets was challenging because of the many options.  Select whatever sound good–just check the ingredients list for whey and the like–but I ultimately decided on the combination of a mequite and a brown sugar-bourbon variety for a balance of spices, flavors–including tomoato–,smokiness, and just a hint of molasses-y sweetness.
Have fun playing with tastes and textures.  I would love it if you would share your results.  Here is mine:
1 1/2 cups vegan butter (it sounds like a lot BUT this recipe makes a lot and this amount is needed)
2-1 to 1.25 ounce packets of vegan BBQ or grilling spice mix (I used one mesquite and one brown sugar-bourbon vareity)
6 ounces smoked almonds
6 ounces pecan halves
1-5 ounce packages potato sticks
1-6 ounce package crispy onions (like old timey cooks use to top their green bean casserole; French's is a popular brand)
1-6 ounce box Earth Balance "Cheddar" Squares
1-8 ounce bag pretzel sticks
1-14 ounce box Chex Corn Cereal
1-14 ounce box Cheerios (NOT the sweet ones)
Preheat oven to 250 degrees.  Place butter in large roasting pan and place pan in oven for a few minutes or until butter is melted.  Whisk in spice mix.  Then stir in all remaining ingredients in succession, gently stirring after each addition to coat with the butter mixture.  Roast for 60 minutes, gently stirring up from the bottom every 15 minutes.  Remove from oven, stir well, allow to cool completely–it will crisp even more as it cools–and package for eating or giving.  Note: I don't find the mixture too buttery for an indulgent snack, but if you prefer to absorb a little of the oil, spread the mixture on brown paper bags or paper towels to cool.