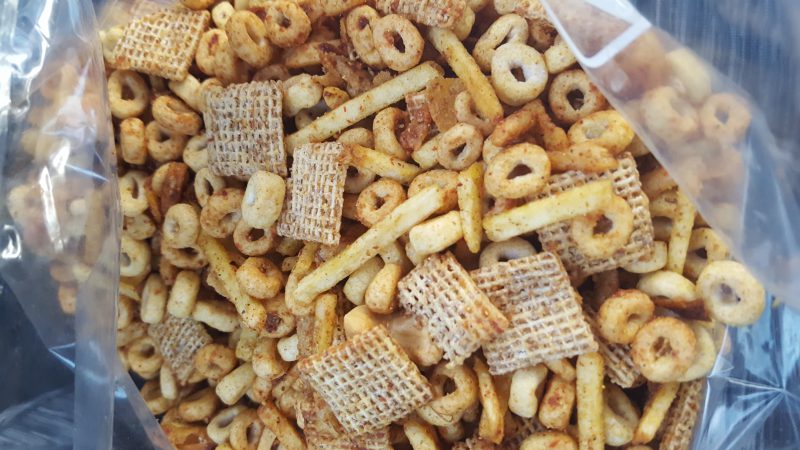 I am sure it is clear to all of us by now that I am obsessed, as I believe this is my fifth Chex Mix iteration in the last month.
But I have a good excuse for this one.  Sadly, a neighbor's too-young husband passed away Sunday night and I wanted to stop by in a show of support, but not empty-handed.
However, knowing that, if she is anything like me, food has all but lost its appeal, I also knew that she would likely be hosting others who might feel differently. So, wanting to try an idea for a curried Chex Mix, this seemed like the perfect unfortunate occasion.
On the way home from Pilates-Barre, I stopped at Pat's house on my former street just around the corner.  Finally,  cars weren't spilling out of her driveway; in fact, the windows looked dark and I thought she wasn't home.
But her daughter tearfully greeted me at the door, welcomed me into their cozy family room, and poured us a glass of wine while her mother retrieved her bourbon.   We proceeded to have the loveliest visit with which that Chex Mix would have gone perfectly. But Pat didn't even know what was in the gift bag and I am glad she saved it…when I open a container of that stuff, regardless of the size, it becomes a single serving.
1/2 cup vegan butter
1 tablespoon vegan Indian tandoori paste (or your favorite prepared Indian sauce; sold in jars on the international aisles of most grocery stores)
1 tablespoon curry powder
1 teaspoon celery salt
1 teaspoon garlic powder
1 teaspoon onion powder
1 1/2 cups French's crispy onions
1 1/2 cups potato stick snacks
1 1/2 cups lightly salted roasted cashews, halves or wholes
6 cups Cheerios
7 cups Chex Mix cereal (I purchase a mixed corn, rice, and wheat variety, but choose your favorite or combine as desired)
Preheat oven to 250 degrees. Place butter in large roasting pan, slide into oven, and allow butter to melt.   Stir in tandoori paste and all spices to combine.   Then stir in remaining ingredients, one at a time, in order, to coat evenly with butter mixture.  Roast for 45 minutes,  stirring every 15. Turn off oven, open door, and allow mix to sit for another 10 to 15 minutes.
Remove pan from oven, allow mix to cool, and package in airtight containers.  (Then, since no doubt you have been sampling along the way, give it as gifts as fast as you can lest you eat it all!)