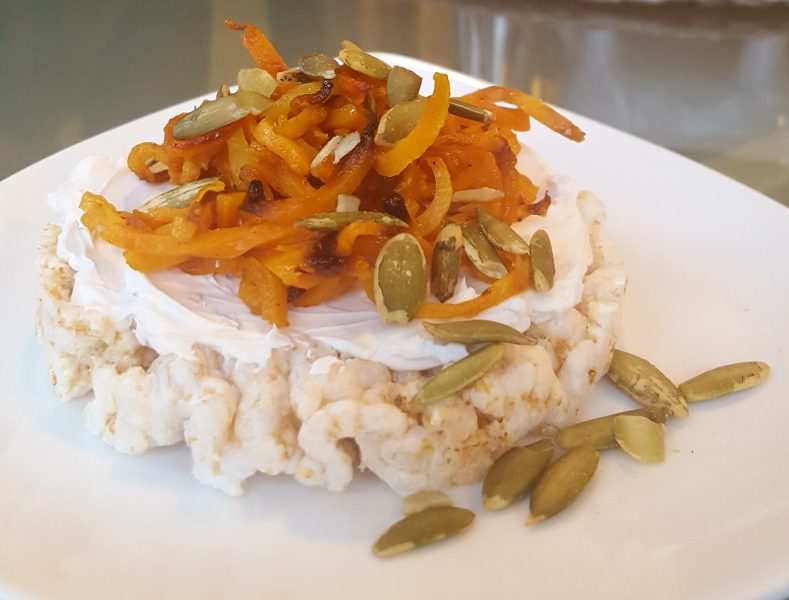 Yield: 4 servings
When you need a meal that is more like a snack, you need my Vegan Roasted Butternut Squash and Cream Cheese Ricetini, a play on crostini (not a martini!).
It's a little bit open-faced sandwich and a little bit pretty appetizer, so it seems special–and it is special enough for a party–but it is so quick and easy.  And it is low-fat and low-calorie but, shhh, don't tell anyone.  Each serving is less than 200 calories!  (Ten ounces of spiralized butternut squash is only 128 calories.)
10 ounces spiralized butternut squash (spray roasting pan and squash with a little nonstick spray, sprinkle lightly with sea salt, and roast for 25 minutes at 450 degrees, tossing half way through)
4 rice cakes
1/2 cup vegan cream cheese, softened
1/4 cup roasted and lightly salted pumpkin seeds.
To make each ricetini, spread one rice cake with 2 tablespoons vegan cream cheese.  Mound 1/4 of the roasted butternut squash on top and garnish with 1 tablespoon pumpkin seeds.  Serve immediately, perhaps with a small salad.