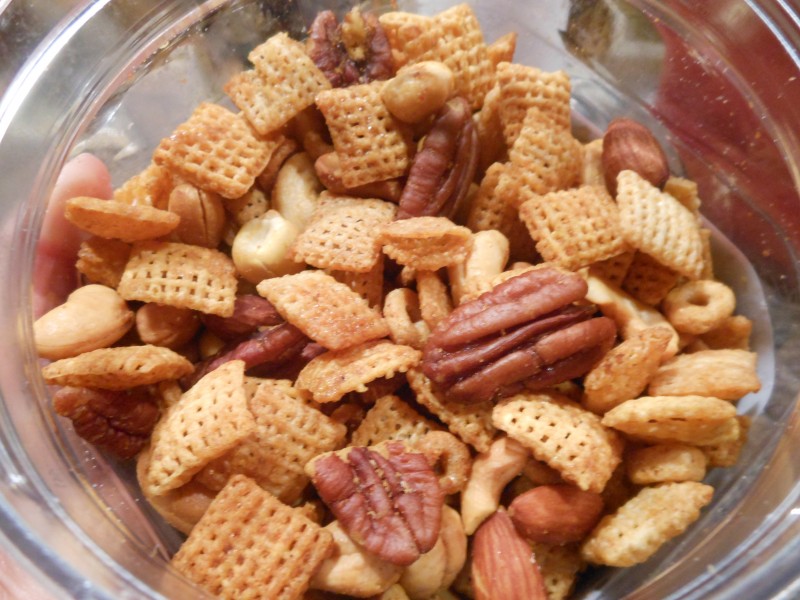 After creating my Vegan Asian Chex Mix (read: culinary cocaine–sorry!), I was on a roll!
If you're interested in how this amalgamation came about, keep reading.  If not, just skip straight to the addicting recipe below.
Scanning my spices for one that would be delicious but that I hadn't seen used in a Chex Mix–which is not to say that it hasn't been–I lit upon smoked paprika, an all-time favorite.
That led me in a BBQ direction (but not like BBQ potato chips of which I'm not fond).  Not wanting the flavor profile to scream BBQ, I chose not to add any BBQ sauce to the melted butter, but I thought that maybe an ingredient used in BBQ sauce might be the ticket, deciding upon mustard as a nice substitute for the tanginess of Worcestershire Sauce, which is not vegna but is one of the traditional ingredients in the vintage Chex Mix recipes.
And that, in turn, led to Corn Chex because corn cakes are so delicious with all things BBQ. But I combined the Corn Chex with Rice Chex because, I don't know, it sounded southern?  Ditto the pecans.  As for the Cheerios, I added them because they are a traditional part of the mix, so to speak, and a nice shape and flavor contrast.
And, finally, I decided to provide a little contrast to all of the tangy, salty deliciousness with just a hint of maple syrup because BBQ sauce often has a hint of sweetness for balance, and maple syrup is so delectable with corn cakes.
In my mind and mouth, it all ties together beautifully.  See what you think…I ended up having to package it and give it as some belated New Year's gifts today lest I founder myself.  See this post for a pretty packaging idea.
6 ups Corn Chex
6 cups Rice Chex
2 cups Cheerios (not the whole grain variety which are fairly highly sweetened)
1 cup smoked almonds
1 cup lightly roasted and salted peanuts
1 1/2 cups lightly roasted and salted chashews
1 1/2 cups pecan halves
1 cup vegan butter, melted
2 tablespoons Liquid Aminos
1 teaspoon mustard (I used stone ground)
1 tablespoons nutritional yeast
1 1/2 teaspoon smoked paprika
3/4 teaspoon seasoned salt (I use Lawry's brand)
1/2 teaspoon garlic powder
1/2 teaspoon onion powder
1/2 teaspoon turmeric
Optional: 1/8 teaspoon red pepper flakes
1 tablespoon maple syrup
Preheat oven to 300 degrees.  Combine all dry ingredients in a large roasting pan.  In a medium bowl, whisk together all wet ingredients except maple syrup (avoid adding it during the baking period, as it will cause the mixture to burn because of the sugars).  Drizzle evenly over dry mix and combine, using your hands, trying to coat every piece with the butter mixture.  Place pan in center of oven and bake for 30 minutes, stirring really well from the sides and corners to the center, every 1o minutes.  Remove from oven, drizzle with maple syrup, and stir well to combine.  To cool, spread mixture out in a thin layer on kitchen counter or baking sheets lined with paper towels or brown paper grocery bags. Cool completely.  Store in airtight containers or in ziplock bags inside airtight containers for extra protection for about a week.