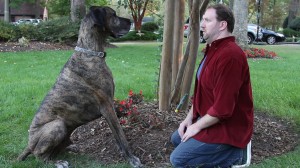 Thank goodness the competition wasn't for a pork rinds commercial!
No, instead, it is for Doritos, the plain "toasted corn" version of which is vegan.
So, if you love The Blooming Platter, The Blooming Platter Cookbook, dogs, Huff, Great Danes, or (vegan) Doritos, we need your help!
Huff is co-starring in a commercial that was chosen out of 6,000 national entries as a TOP FIVE FINALIST in the "2012 Doritos Crash the Superbowl" Commercial Competition!
In order to be aired on the Superbowl, Huff's commercial–the brainchild of our friend and VA Beach resident, Jonathan Friedman–needs to be chosen as one of the Top Two by online viewer vote. Jonathan also stands a chance to win $1 million…that's a lot of dog food!
We hope you will view the commercial, love it, and consider voting up to five times per day per email address (because you can vote at five sites) between now and January 29. Just follow THIS LINK.
By the way, Jonathan, Huff, and co-star, Derek Leonidoff's, commercial is the ONLY Finalist east of the Rockies!  Bring it!
Huff sends you licks and kisses. And he invites you to "lick," oops, I mean "like" his Facebook page HERE. And please consider sharing on your websites, FB pages, etc.