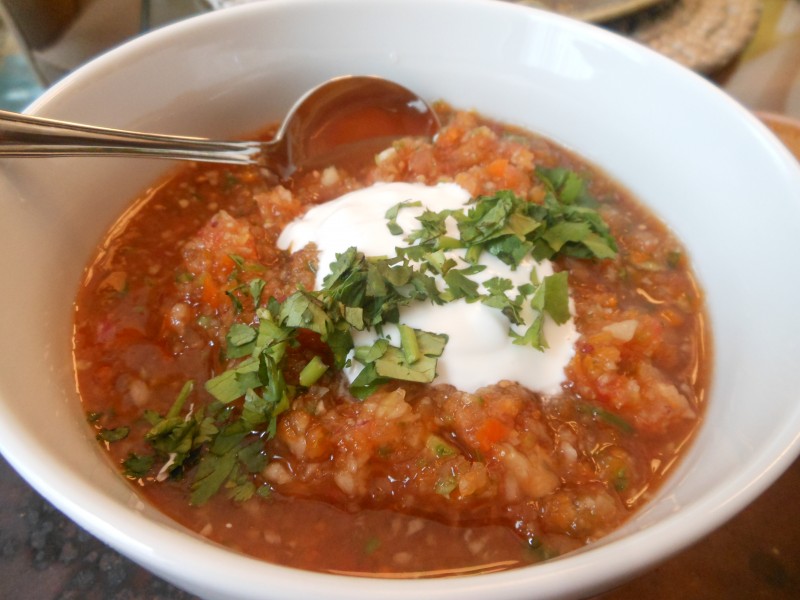 Yield: 4 main dish servings
Monday evening, I hosted a mini-dinner party for two foodie friends.  Our temperatures here in Eastern Virginia spiked that day after quite a cool week, so I wanted to serve a light menu and maybe a chilled soup.
On my DC day-hiking experience with my cousin last weekend, we had enjoyed two(!) meals at Nora–America's very first and still chart-topping organic restaurant–in Dupont Circle where I was enchanted with the asparagus vischysoisse.   I toyed with that idea, but on our Rock Creek Park hike, I had packed a picnic lunch that included watermelon cubes, which I seldom eat.  I confess to not eating a lot of fruit, probably because of its high sugar content, but this was addicting and so hydrating.
I came home from our trip sort of obsessed with the idea of grilled watermelon and I'm not sure why; maybe I saw it on a menu somewhere in the city.  So, not long after I had decided against the vischysoisse–asparagus isn't still in season here–I thought of grilled watermelon gazpacho.  I saw only a couple of recipes for it online and I consulted one of them, but then just made up my own creation, choosing what looked the most enticing at the grocery store.
Wanting a more golden rather than rich tomato-ey soup–of which I'm not a big fan and often prevents my ordering gazpacho in restaurants–I chose golden grape tomatoes and an orange bell pepper, among other ingredients.  But choose whatever you like, using my recipe as is or as a guide.  My dinner guests will attest: this is one amazing soup, even with no herbs and spices other than salt and pepper and a garnish of cilantro and I will make it again and again just like this!
And it was the perfect supper served with a pair of Beet Bruschetta.  Oh, and a couple of glasses of wine.
Happy Independence Day!
2 1-inch thick slices of seeded watermelon about 9″ across at the widest point (basically enough to completely cover the bottom of a 10-inch indoor grill pan in one layer)
10. 5 ounces yellow grape tomatoes
1 10-inch English cucumber, cut into 2-inch chunks
1 medium red onion, cut into 2-inch chunks
1 orange bell pepper, stemmed, seeded, and cut into 1/8ths
1 poblano pepper, stemmed, seeded and quartered
3 large cloves garlic
1/2 teaspoon sea salt or to taste
1/8 teaspoon of pepper or to taste
1/4 cup vegan sour cream
1 teaspoon grated lime zest
2 to 3 tablespoons finely chopped cilantro
Recommended Accompaniment: Beet Bruschetta
Preheat oiled grill pan over medium-high.  Arrange watermelon slices in pan in one layer.  Cook about 3 minutes or until nice grill marks appear, carefully flip, and repeat.  Remove watermelon to a plate and, when cool enough to handle, slice off rind.  Then place all ingredients except sour cream, lime zest and cilantro in the bowl of a food processor in about three batches and process until desired consistency is reached, transfering each batch to a storage container or serving bowl.  Stir to combine completely and refrigerate for a couple of hours or until serving time.  Just before serving, stir together sour cream and lime zest.  Serve each bowl topped with 1/4th of the Lime Sour Cream and the chopped cilantro.