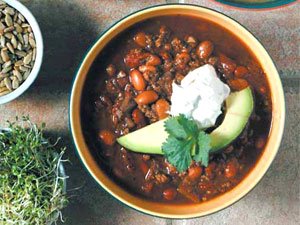 Our weather has been living up to its "if you don't like it, wait ten minutes and it will change" reputation, meaning that we have had some unseasonably cold days and nights. So, while I don't normally associate March with chili weather, we have been experiencing some pretty "chilly" temperatures.
Check out this link for a short feature and recipes that I published in The Virginian-Pilot in January '08 for a vegan chili buffet that even our meat-eating friends lined up for (a red and a white chili plus my Mom's addicting corn fingers, veganized):
http://hamptonroads.com/2008/01/plan-super-bowl-chili-buffet
Note: This lovely photo was taken by either a staff photographer or freelancer for The Virginian-Pilot, but there was no photo credit on the website and, for some reason, I don't have a hard copy of that story in my files, as I do for virtually everything else. My apologies to the photographer.