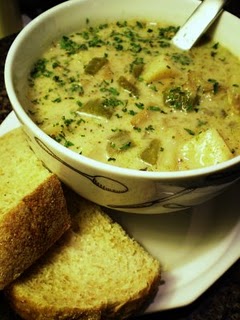 Yield: 4-6 servings
My "skinny" vegan version of this perennial favorite tastes rich, silky and complex, but it contains no seafood nor cream. Instead, homemade setain replaces the clams, and chopped potato skins and Liquid Smoke replace the bacon. (If you have never made homemade seitan, you won't believe how easy it is. But if, for whatever reason, you know you'll never make nor eat it, Shitake or oyster mushrooms are an excellent alternative, as they have a slick somewhat chewy texture similar to clams.) The briny seafoody taste comes from kelp, both in the stock in which the seitan is simmered (or the Shitakes are sauteed), and in the soup itself. Vegetable stock combined with unsweetened soy milk provides plenty of creamy goodness and body without being cloying.
2 medium-large white, baking or Yukon gold potatoes, peeled (reserve skin) and cubed to make 3 cups
1 tablespoon olive oil
1 tablespoon vegan butter (I like Earth Balance)
pinch of salt
1/2 teaspoon of Liquid Smoke
3/4 cup chopped onion (medium fine)
1/2 cup chopped celery (split stalks lengthwise and slice crosswise fairly thinly)
1/2 teaspoon dried thyme
1 teaspoon kelp granules (you could try powdered kelp, though I haven't tested it)
salt and freshly ground black pepper to taste
3 cups vegetable broth, warmed in the microwave or in a saucepan
2 cups unsweetened soy milk, also warmed in the microwave or in a saucepan (may combine with broth to heat)
1 cup coarsely chopped homemade "seafood seitan" (see below) or Shitake or oyster mushrooms, sauteed in a skillet with 1-2 teaspoons olive oil for 2-3 minutes over medium-high heat, seasoned to taste with granulated kelp (in place of salt)
liquid smoke to taste
2 tablespoons minced fresh parsley
Optional garnish: a teaspoon of fresh minced parsley and a tiny pinch of Old Bay seasoning per bowl
In a medium-large saucepan over medium-high, heat oil and melt butterto shimmering. While it heats, dice potato peel. Add the peel, salt and Liquid Smoke to pan, and cook for about 3 minutes, stirring frequently, as it has a tendency to stick. Add onion and cook, stirring frequently until slightly softened. Add celery and do the same. Stir in thyme and kelp, taste, being careful not to burn yourself, and add salt and pepper as needed. Stir in potatoes followed by warmed broth and soy milk. Cover and simmer, stirring occasionally, until potatoes are tender but not falling apart, about 10-15 minutes. Stir in seitan (recipe follows), additional liquid smoke to taste and parsley, if desired, for a burst of freshness. Serve in bowls topped with a parsley and Old Bay seasoning if desired.
Seafood Seitan
2 cups water
2 tablespoons soy sauce
1-5″ piece of dried kelp, torn into 3-4 strips
1/2 cup wheat gluten
1/2 cup water
In a covered medium saucepan, bring water, soy sauce and kelp to a gentle boil and reduce to a simmer. Meanwhile, in a small to medium bowl, whisk together wheat gluten and water and knead for about 2-5 minutes (some directions recommend 5 minutes, but I find it's not necessary and can make the seitan a little too chewy and tough). Pull off pieces of seitan, stretching and shaping them into about five to six "fingers" approximately 3″ long. Drop into kelp stock ("fingers" will become shorter and rounder as they cook), cover, and simmer very slowly for about an hour. Check periodically to make sure that liquid has not evaporated. If it does before the cooking time is up, add a little more water. Remove seitan pieces and cool. If any liquid remains, discard or strain and use for another purpose.