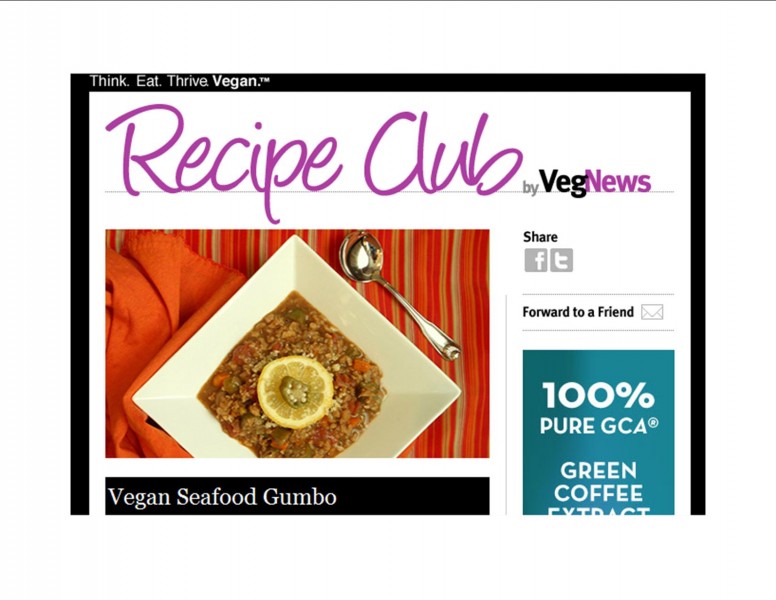 Yield: 6 to 8 servings
Earlier this week, I was thrilled to learn that VegNews–THE culinary and lifestyle magazine for we meat-free folks–featured my brand new Vegan Seafood Gumbo recipe  in their culinary e-newsletter, "Recipe Club."  Thanks to all the great folks at VegNews!
They were happy to grant me permission to post my recipe.  But, because they were so generous–and because everything they produce is of such high quality–I urge you to visit their website and scroll down on the right to  "Let's Talk" where you can quickly sign up for the "Recipe Club" culinary e-newsletter with the click of a button.
Now, about that recipe…
Having once had a vegan gumbo prepared by one of the finest (albeit non-vegan) chefs on the Eastern Seaboard–and not caring for it–I thought a delicious briny-tasting seafood-flavored vegan gumbo simply couldn't be achieved.
But fast-forward a few years and lots of cooking experience, and the stars aligned to bring authentic gumbo within my reach.  And I'm thrilled to share it with you
This is a true gumbo, folks; not a soup or a stew.  That means that the roux is all-important.  Besides fearing that I could never hit the right flavor profile, I shied away from gumbo for years, as I loathed the idea of standing over the stove, stirring a pot for nearly an hour.  But when I recently learned about an oven-baked method for making roux on Cook's Country TV, that all changed.
Boy, did it!
Though gumbo is a fairly new addition to my repertoire, I am trying to make up for lost time.  My first recipe, one for a delicious (if I do say so) Vegan Chicken and Sausage Gumbo, was recently published here on One Green Planet.  However, since my Mississippi and Texas relatives have little more than disdain for any dish containing chicken and sausage that dares call itself gumbo, I knew I would have to eventually create a recipe for a vegan seafood gumbo.  And the opportunity presented itself sooner rather than later.  Actually,  a Sunday morning plus a powerful craving was all the urging I needed.
Laissez les bontemps rouler!
Blooming Platter Vegan Seafood Gumbo
Ingredients:
5 3/4 cups water
6 sheets Nori (roasted seaweed; the type used for making sushi)
1 tablespoon salt
1 tablespoon Old Bay Seasoning
1/1/2 teaspoons soy sauce
1 lemon, halved
2 cups textured vegetable protein (TVP)
3/4 cup unbleached all-purpose flour (I use white whole wheat)
1/2 cup canola oil
Sea salt and freshly ground black pepper
1 small-medium finely diced yellow onion
1 red or orange bell pepper, seeded and chopped
1 celery rib, chopped fine
5 garlic cloves, minced
1 teaspoon minced fresh thyme (or 1/4 teaspoon dry)
1 teaspoon file (dried sassafras leaves)
1-14.5-ounce can diced tomatoes, drained
1/4 cup vegan fish sauce
2 cups frozen cut okra, thawed
Accompaniment: 3 to 4 cups of cooked white rice
Preparation:
MAKE STOCK  In a 4-quart saucepan, combine water, Nori, 1 tablespoon salt, Old Bay Seasoning, soy sauce, and lemon halves.  Cover loosely, and bring to a boil over medium-high heat.  Turn off heat, cover tightly, and let sit while continuing with recipe.  Strain before using, pressing on solids with the back of a wooden spoon.
MAKE ROUX Adjust oven rack to middle position and preheat oven to 350 degrees. In a large cast iron skillet or heavy Dutch oven (my preference) over medium heat, toast ¾ cup flour, stirring constantly, until just beginning to brown, about 5 minutes. Remove from heat and whisk in oil until smooth. Cover (use foil if you have no lid that fits your pan), transfer skillet or pot to oven, and cook until mixture is deep brown and fragrant, about 20 minutes, checking and stirring after 10. It will look almost chocolatey or the color of an old copper penny.  (If not making gumbo right away, store roux in an airtight container in the refrigerator for up to 1 week. To use, heat the roux in a  cast iron skillet or heavy Dutch oven over medium-high heat, whisking constantly, until just smoking, and continue with step 2.)
COOK AROMATICS Transfer skillet or Dutch oven to stovetop and whisk cooked roux to combine. Add onion, bell pepper, celery, and a pinch of salt and pepper, and cook over medium heat, stirring frequently, until softened, about 10 minutes. It will seem quite dry.  Stir in garlic, thyme, and file, and cook until fragrant, about 1 minute. Add tomatoes and cook about 1 minute. Slowly whisk in 3 3/4 cups of the stock along with the vegan fish sauce until smooth.  Increase heat to medium-high and bring to a simmer.
FINISH GUMBO Stir okra into gumbo and simmer for about 20 minutes while rice cooks; reduce heat to medium if cooking too fast.  Meanwhile, place textured vegetable protein (TVP) in a medium bowl and pour remaining 2 cups of hot stock over.  Let sit for 5 to10 minutes or until TVP has softened.  Stir into gumbo and adjust seasoning if desired. Serve with a scoop of white rice and, possibly, biscuits or garlic bread.