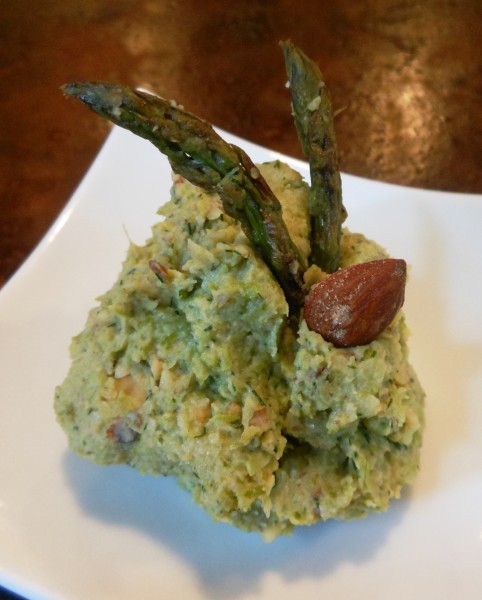 Yield: approximately 2+ cups
I am headed to an outdoor concert at The Hermitage Museum in Norfolk tomorrow evening and I think I'll take along this crowd pleaser.  I took it to a party on Saturday night and everyone seemed to love it, even with a garnish of peanuts that the hostess accidentally spilled on top when we were moving the apps outdoors. 🙂
Different without being odd and elegant without being fussy, it travels well and looks fresh upon emerging from the backseat of your car.
While grilling the asparagus may seem like an unnecessary step, trust me it's not.  The unique and addicting flavor of this spread is all about that grilled umami flavor boosted a bit with the addition of smoked almonds and offset by a burst of fresh lemon and "grassy" fresh dill.
1-15 ounce can white beans (like cannelini), rinsed and drained
1 tablespoon olive oil + 1/4 cup
Pinch sea salt or to taste
1 bunch asparagus, trimmed (*see note below)
1/4 cup smoked almonds
2 large cloves garlic
1 cup loosely packed fresh dill (I include the tender stalks)
Juice of 1/2 large lemon
Pinch freshly ground black pepper or to taste
Optional garnish: a couple of grilled asparagus tips, lemon slices or fresh dill sprigs
Place white beans in food processor.  Spray a grill pan with nonstick spray and place over medium-high.  Add asparagus in a single layer, drizzle with 1 tablespoon olive oil, roll to coat, and grill for about 10 to 15 minutes (depending on diameter of asparagus), rolling them over about halfway through or as needed to prevent burning.  Remove to cutting board, cut in half, and add to food processor along with all remaining ingredients, including 1/4 cup olive oil.  (If using asparagus tips as garnish, set a couple aside.)  Pulse until desired texture is reached.  I like it fairly smooth, but with a hint of texture and flecks of color.  Serve at room temperature or chilled with small toasts or crackers.
*To trim sparagus, hold one spear horizontally between the thumb and forefinger of each hand.  Bring hands down and toward each other causing the spear to bend and eventually snap.  Wherever it snaps is where all spears should be trimmed–use it as your measuring guide–for the most tender and freshest tasting asparagus.