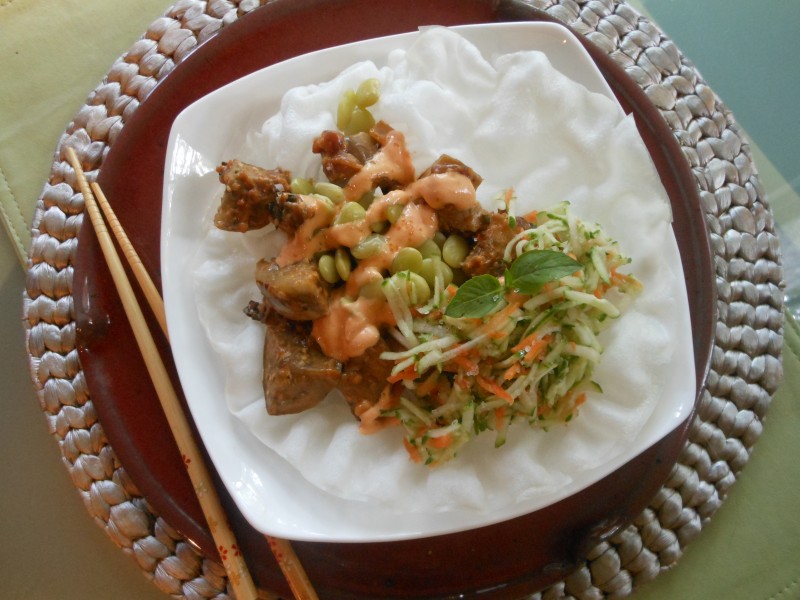 Yield: 4 servings
A spring roll wrapper crisped and perfectly puffed in the microwave forms the adorable edible bowl for this delectable Thai-influenced layering of fresh ingredients: limas cooked in coconut water; onion, eggplant, and garlic in a creamy peanut butter-red curry paste sauce with a hint of Thai basil; Cucumber-Carrot Slaw; and, if you're feeling really decadent, Chili-Mayo, chopped cashews or peanuts, and a sprig of Thai Basil.  Buddha would certianly bless this bowl!
1 cup fresh lima beans cooked about 20 minutes or until tender in simmering coconut water to cover, cooled, and drained (reserve water for another use)
1 cup julienned or grated cucumber and carrot, combined in any proportion (I use one medium cucumber and one medium carrot and a food processor for this task)
Sea salt
3 tablespoons vegan "fish" sauce, divided into 2 and 1 tablespoons (sold as "vegetarian" in Asian markets)
1 tablespoon + 1/2 teaspoon rice wine vinegar
1 tablespoon olive oil or peanut oil
1 medium red onion, diced
3/4 pound eggplant, cut into 1-inch cubes
1 large clove garlic
1/2 cup water
2 tablespoons crunchy peanut butter (I use Kroger brand "natural")
1 teaspoon Thai red curry paste (widely available in Asian markets and the international aisles of grocery stores)
1 tablespoon finely chopped Thai basil (also widely available at Asian markets; you can substitute regular basil, but it won't have that distinctive anise-like flavor)
4 spring roll wrappers
Chili Mayo (optional; recipe follows)
Garnishes: 4 teaspoons chopped lightly salted and roasted cashews or peanuts and fresh Thai basil sprigs
While lima beans cook, make Asian Cucumber-Carrot Slaw:  in a small, non-reactive bowl, combine julienned or grated cucumber and carrot with a pinch of sea salt, 1 tablespoon fish sauce and 1/2 teaspon rice wine vinegar and set aside.  Make eggplant filling: heat olive oil in a large cast iron skillet over medium high.  Saute onion with a pinch of sea salt for about 3 minutes, stirring frequently, or until softened.  Add eggplant and garlic and saute, stirring frequently and lowering heat if necessary, for about 12 minutes or until lightly browned.  Stir in water, and allow to simmer while you whisk together in a small cup the peanut butter, the remaining 2 tablespoons of fish sauce, the remaining 1 tablespoon of rice wine vinegar, and the red curry paste.  Drizzle over eggplant mixture, stir to combine, and heat through.  Stir in Thai basil.  Lower heat and keep warm while you prepare spring roll bowls.  Microwave each spring roll wrapper for about 40 seconds on full power or until puffed with no slick, shiny areas.  Check after 20 to 30 seconds.  To serve: place each puffed spring roll wrapper on a plate or in a shallow bowl.  Spoon 1/4th of eggplant mixture in the center, followed by 1/4 of beans and 1/4th of slaw.  Drizzle with Chili Mayo if desired, and garnish each with 1 teaspoon chopped nuts and a sprig of fresh Thai basil.  Serve immediately.
Thai Chili Mayo:
6 tablespoonsvegan mayo
2 tablespoons vegan "fish" sauce (sold as "vegetarian" in Asian markets)
1 teaspoon rice wine vinegar
1 teaspoon Thai Red Curry Paste
In a small non-reactive bowl, whish together all ingredients until very smooth.  I like to transfer to a plastic squirt bottle from the dollar store for dispensing.