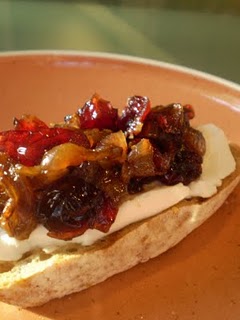 Yield: 4 small servings (the onions cook down considerably)
You've probably been seeing versions of this 'in" appetizer in the fall culinary magazines. And there's good reason! Besides being pretty and festive, there is nothing not to love about it.
My version is similar to all of the others, but uses vegan cream cheese or my vegan goat "cheese" as the first layer. Folks who don't care for onion will change their minds once they take the first bite of these onions' rich, golden-brown and earthy sweetness offset by sweet-tart cranberries and a hint of mellow pungency from balsamic vinegar.
Spooning the onion mixture atop a layer of luscious white "cheese" that has been smoothed over crunchy grilled bread or a whole grain cracker (in a pinch) makes for one scrumptious appetizer.
2 tablespoons olive oil
2 medium yellow onions, halved, peeled, and cut crosswise into thin slices
coarse sea or kosher salt to taste
freshly ground black pepper
2 medium-large cloves of garlic, peeled and thinly sliced
4 tablespoons dried cranberries
4 teaspoons balsamic vinegar
optional: 1/4 teaspoon or so of dried thyme or minced rosemary (use about 3 times more if using fresh herbs)
vegan cream cheese (purchased) or vegan goat "cheese" (see my recipe below)
small piece of good bread, like ciabatta, grilled or toasted or sturdy whole grain crackers
In a large cast iron skillet over medium-high, heat olive oil to shimmering. Add onion, salt and pepper and saute, stirring frequently, until soft and beginning to turn golden. Add garlic and continue sauteing and stirring frequently until onion is golden-brown. You may add a little splash of water during the cooking process to speed it along if desired. Stir in cranberries, balsamic vinegar and optional thyme or rosemary, and cook just another minute or until cranberries are slightly softened. Remove from heat and serve atop small toasts or crackers spread with vegan cream cheese.
If you would like to make your own vegan goat "cheese," here is a version I created that is a hit among vegans and non-vegans alike (it makes about 1 1/2 cups). If you use this recipe, here is a crowd-pleasing alternative preparation: spread the "cheese" about 1/4-1/3″ thick on a serving platter. Double the recipe for the chutney above and spoon over the top of the "cheese." Serve with toasts or crackers.
Vegan Goat "Cheese"
14 ounces regular firm tofu (not silken)
2 garlic cloves or roasted garlic cloves
2 tablespoons nutritional yeast (optional, but it makes the "cheese" extra yummy)
2 teaspoons fresh lemon juice
1/2 teaspoon Amino Acids
1/2 teaspoon salt or to taste
1/2 teaspoon seasoned salt
freshly ground black pepper to taste
pinch granulated sugar or raw sugar (optional, but I like it for balance)
zest of 1/2 a lemon
Place all ingredients in the bowl of a food processor fitted with a metal blade and process until smooth and creamy. Store in refrigerator in an airtight container.