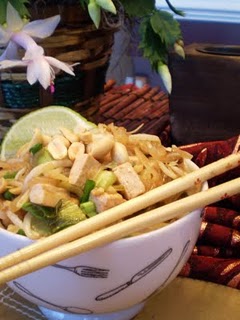 Yield: 6-8 servings
The main course of this year's Thai-inspired Thanksgiving repast, this version of Pad Thai is quick, easy and vitamin-infused, thanks to baby bok choy.
8 ounces Pad Thai rice noodles (thin, flat linguini-like noodles)
3/4 tablespoon tamarind paste (available at Asian markets)
1/4 cup hot water
3 1/2 tablespoons soy sauce
1 teaspoon chili sauce (to taste)
3 tablespoons brown sugar
3-4 tablespoons oil for stir-frying
1 shallot or 1/4 cup onion, finely diced
4 cloves garlic, minced
4 "heads" of baby bok choy, or other Chinese cabbage, roughly chopped
2-3 tablespoons vegetable stock
1/2 cup firm tofu, crumbled (you may use soft tofu, it just breaks down to a greater degree)
2 cups bean sprouts
Garnishes:
2 green onions, sliced
1/3 cup fresh cilantro
1/4 cup ground or finely chopped peanuts
lime wedges for serving
Bring a pot of water to a boil and remove from heat. Soak noodles in the hot water for 6-10 minutes. Drain and rinse with cold water. Tip: Noodles are ready to drain when they are soft enough to eat, but still firm and a little bit "crunchy". The noodles will finish cooking when they are fried.
Dissolve the tamarind paste in the hot water. Add the next four ingredients and stir well to dissolve the sugar. Add as much or as little chili sauce as you prefer, but don't skimp on the sugar (you need it to balance the sourness of the tarmaind). Reserve.
Place wok (or large frying pan) over medium-high heat. Add 1-2 tablespoons oil plus the garlic and shallot. Stir-fry 1 minute to release the fragrance. Add the bok choy plus the stock. Stir-fry 2 minutes, or until bok choy is bright green and slightly softened. Push ingredients aside and add 1/2 tablespoon more oil to the center of the wok/pan. Add the tofu and stir-fry briefly to scramble it. Push tofu aside and add a little more oil to the middle of the wok/pan. Now add the drained noodles and 1/3 of the sauce. Stir-fry everything together for 1 minute using 2 utensils and a tossing motion (like tossing a salad). Add a little more sauce and continue stir-frying in the same way for 1-2 more minutes, or until the noodles begin to soften and become sticky. Reduce heat to medium if noodles begin to stick and burn. Add the bean sprouts plus the remaining sauce. Stir-fry to incorporate everything together for 1-3 more minutes, or until noodles are done. Noodles are cooked to perfection when they are soft but still deliciously chewy and a little bit sticky. Remove from heat and taste-test, adding more vegan fish sauce or soy sauce if desired for more salt/flavor.
To serve, scoop noodles onto a serving platter. Sprinkle with the green onion, cilantro, and ground nuts. Add wedges of fresh-cut lime on the side. Serve immediately. (Thai chili sauce can also be served on the side for those who likes their noodles extra spicy).
Source: http://thaifood.about.com/od/vegetarianthairecipes/r/padthaiveg.htm.