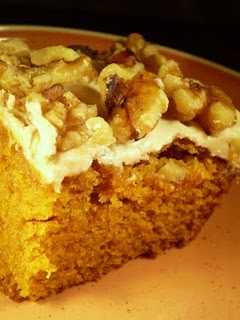 Yield: 1-9 x 13″ sheet cake
I took this cake to school today as a day-before-Thanksgiving treat for my Advanced Art and AP Studio class. It was a hit. One of my students described it as having the texture of pumpkin bread but a little more cakey. I agree. It is a slightly more dense cake or a slightly less dense bread. Regardless of how you look at it, it is moist, yummy, and it slices really nicely.
The original recipe calls for chocolate chips and nuts with no frosting, but I'm not a big pumpkin and chocolate fan, so I omitted the chips and I sprinkled the nuts on top in case a "picky" student wanted to pick them off. The recipe also calls only for cinnamon, but I use pumpkin pie spice and much more of it than the 1/2 teaspoon specified. And, finally, I used brown and turbinado sugars instead of the white called for.
You can bake the batter in loaf or Bundt pans, but sheet cakes are so easy to transport and don't require as much cooking time as the others. However, sheet cakes seem to need frosting, so I just made one of my favorite go-to recipes and added maple extract.
Vegan Pumpkin Cake:
3 cups flour
2 cups brown sugar (I actually used 1 cup brown and 1 cup turbinado sugar)
1/2 teaspoon salt
1 tablespoon pumpkin pie spice
2 teaspoons baking powder
2 teaspoons baking soda
1-15 ounce can pumpkin puree
1 cup canola oil
Preheat oven to 350 degrees. Spray a 9 x 13″ pan with nonstick cooking spray. In a large bowl, mix together all dry ingredients. Add oil and pumpkin. Mix well by hand or on low-medium speed of an electric mixer just until combined and no lumps remain. Scrape into prepared pan and spread evenly. Bake for 30 minutes or until a wooden pick inserted in the center comes out clean. Cool on a wire rack. Frost with Vegan Maple-cream Cheese Frosting and garnish with walnuts or pecans.
Vegan Maple-Cream Cheese Frosting:
1/4 cup vegan butter (I like Earth Balance), softened
1/4 cup vegan cream cheese, softened
approximately 2-3 cups powdered sugar
approximately 2-3 tablespoons unsweetened soy milk (or plain, vanilla or vanilla lite)
1/2 teaspoon maple flavoring
In the bowl of an electric mixer fitted with a paddle attachment, cream together first two ingredients on high speed. Add powdered sugar and soy milk with mixer turned off and then slowly bring the speed up to high to completely incorporate it, adding approximately 1 cup of powdered sugar and 1-2 tablespoons of milk at a time until desired consistency is reached. If too thin, add more powdered sugar; if too thick, add more soy milk. Beat in maple extract.
Garnish:
Approximately 1/2 cup walnut or pecan pieces
Cake Source: Adapted from Aliciasrecipes.com