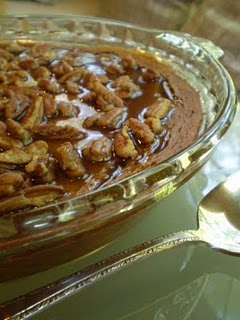 Yield: 8 Servings
Enjoy this luscious-but-reasonably-lite vegan fall flan any time, but especially for the holidays. It couldn't be easier or tastier, and it won't weigh you down though it will up your protein. Plus it's so pretty in that homespun casual elegance kind of way.
1-12 ounce block of firm Silken Tofu (drained)
½ of a 13 ounce can pureed pumpkin or about ¾ cup
1 cup unsweetened, plain, vanilla or lite vanilla soy milk
2 ½ tablespoons cornstarch (you may alternatively use 1/3 cup all-purpose flour, but the result may be slightly more cakey than custardy)
1 tablespoon pumpkin pie spice
1/2 cup brown sugar (this is not a really sweet custard, so add another ¼ cup brown sugar if you prefer)
1 teaspoon vanilla extract
Topping:
1 teaspoon vegan butter
½ cup pecan pieces
Pinch salt
2 tablespoons water
½ cup brown sugar
Optional Garnish: 1 box Soy Whip
Custard: Preheat oven to 350 degrees. Oil an 8-9 inch round glass or ceramic pie dish. Place all filling ingredients in a food processor fitted with a metal blade and process until smooth and completely combined. Scrape into the pie dish, gently smooth top, and bake 45 minutes (but check every 5 minutes beginning at 30.) Let cool to room temperature and, if not serving right away, chill, covered. Serve chilled or at room temperature with warm topping.
Topping: In a medium saucepan over medium-high heat, melt butter, add pecans and salt, and toast, stirring frequently, until light golden brown which should take a very few minutes. Remove from heat and scatter nuts over the top of custard. In a small microwave-safe cup or bowl, mix together water and brown sugar. Heat in microwave for 30 seconds, stir, and pour evenly over the top of custard. Serve immediately with or without dollops of Soy Whip.
Optional Garnish: Pour Soy Whip into the bowl of an electric mixer fitted with a whisk attachment and beat until soft peaks form.