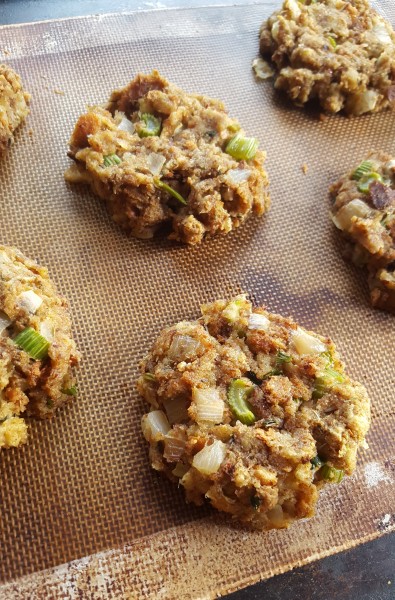 I woke early this morning as I always do and felt almost "called" to make something for my neighbor–a retired fella who helps me out with guy things, e.g. changing lightbulbs in security fixtures atop a tall ladder–who had a tooth removed last week and still has a sensitive mouth.  The package of stuffing in my pantry called out and these baked Stuffing Cakes were born.
They are seriously simple–as they start with the aforementioned dried stuffing mix–and seriously addicting.  The stuffing mix I recommend is vegan and I had to read the back of every package to identify it, so save yourself some time by using it.  Although, if you have another favorite brand you know is vegan, by all means, use it.  I am always astonished at what manufacturers slip milk into.
Forming this as a cake allows for more exposed surface area and, hence, and more of that ever-so-slightly crispy exterior we all love.  The amount of vegan butter may seem like a bit much, but I like this amount not only for flavor, but for aiding in a beautifully lightly browned surface.
Enjoy these cakes as a side or with something piled on top.  Be imaginative…and please share your ideas.
They are best eaten as soon as they come out of the oven or reheated for just a few minutes in a 350 degree oven rather than in a microwave, though the latter will do in a pinch.
1 tablespoon olive oil
1 medium onion, diced
1 to 2 large garlic cloves, minced
2 stalks celery, diced
1/8 teaspoon sea salt
1/8 teaspoon rubbed sage
1/8 teaspoon dried thyme
1- 8 ounce package Pepperidge Farm Herb Seasoned Classic Stuffing
1 1/2 to 2 cups vegetable stock
2 tablespoons flax seed meal
4 tablespoons vegan butter, butter
Preheat oven to 350 degrees.  Line a baking sheet with a silicone mat (like Silpat) or parchment paper.  Heat olive oil in a large (4-quart) saucepan over medium-high.  Add onion, celery, and salt and saute, stirring frequently, for about 3 minutes.  Add garlic and saute, stirring, for about 30 seconds.  Stir in stuffing mix and herbs until well combined and then begin stirring in stock a little at a time. until a moist but firm consistency is achieved.  Whisk flas seed into melted butter, drizzle over mixture, and stir to completely incorporate.  Divide into 8 equal scoops on prepared baking sheet.  Flatten each into a 3/4-inch disk and bake for about 15 minutes or until set and enticingly crispy on the exterior.  Serve immediately.