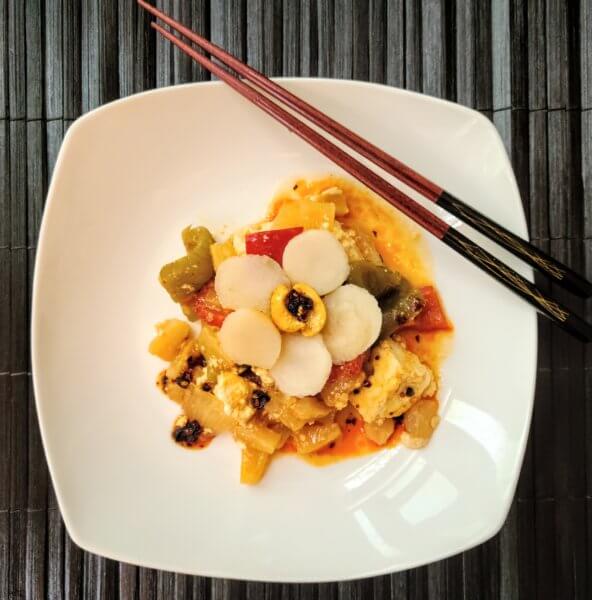 Yield: 4 to 6 servings
This dish is so quick and easy and tastes like authentic Chinese takeout! Add tofu, as pictured, or mushrooms for an even heartier take.
I think my garnish is so cute: a retro flower made just from what I had on hand: a water chestnut with a cashew and hot chili oil center.
1/2 cup catsup
1/2 cup rice vinegar
2 tablespoons dark molasses
2 teaspoons soy sauce
1 red bell pepper, cored and cut into chunks slightly larger than dice
1 green bell pepper, cored and cut into chunks slightly larger than dice
1 white or yellow onion, cut into chunks slightly larger than dice
1-20 ounce can pineapple tidbits in juice, drained and juice reserved (refrigerate half of pineapple for another use)
2 tablespoons cornstarch
Optional add-ins: 1 pound cubed extra firm tofu or sauteed mushrooms
Optional garnishes: sliced water chestnuts, lightly salted and roasted cashew halves, and hot chili oil
In a medium bowl, whisk together first 4 ingredients and set aside. In a tablespoon of oil or hot chili oil, or about 4 tablespoons water, sprinkle bell peppers and onion with salt and sauté until tender. Pour catsup mixture over, stir, and heat through. Whisk cornstarch into reserved pineapple juice and add to skillet with pineapple tidbits, cooking and stirring until mixture is thick and heated through. Stir in tofu or mushrooms if desired, and heat through. (Or you can saute mushrooms with other vegetables. ) Serve over rice, if you like, garnished as desired. I like to create retro flowers out of sliced water chestnuts with centers made out of 2 cashews each and a dab of hot chili oil.