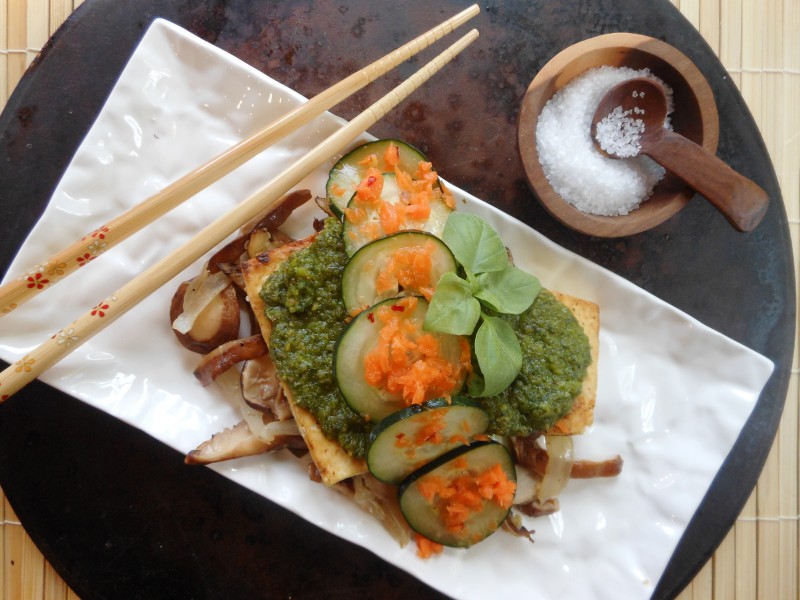 Yield: 4 servings
This sensational stack was inspired by dinner Friday night at Vietnam Garden (with locations in VA Beach and Norfolk, VA).  My dinner was actually a vegan Pho with fried tofu strips, but I wanted to create a dish that capitalized on all of the same delicious tastes and textures without needing to fry the tofu, nor up the carb content with noodles.  And this beautiful dish does just that.
I do love the hydrating properties of Pho–especially after hot yoga on Friday nights(!)–and I know I could put anything in it that I wanted, e.g. unfried tofu and no noodles, but the truth is that I also didn't want to take the time to create a rich homemade stock which is essential to Pho.
My resulting "stack" accomplished exactly what I hoped for and it is addicting!  I recommend making the Herb and Peanut Pesto and the Pickled Cucumber-Carrot Relish a day ahead so that the dish goes together even faster.  But, if your schedule doesn't allow for that, it is still a pretty quick dish and the flavors will be plenty developed.  Just make pesto first, followed by the relish and let them sit while you saute the mushrooms and broil the tofu.
The presentation is stunning with hardly any effort thanks to the beautiful contrasting colors and shapes of the ingredients.  Your family will be wondering who's coming to dinner!  On the other hand, make it for guests and they will be sure you labored for hours especially for them.
Vietnamese Tofu Stack with with Golden Shitake Saute, Herb and Peanut Pesto, and Pickled Cucumber-Carrot Relish
1-14 ounce box extra-firm tofu, drained, patted dry, and cut into 8 slices
Sea salt
Freshly ground black pepper
Soy sauce (or tamari)
Herb-Peanut Pesto (recipe follows)
Golden Shitake-Onion Saute (recipe follows)
Pickled Cucumber-Carrot Relish m(recipe follows)
Sprigs of fresh thai basil, cilantro, mint; lime wedges; and/or chopped peanuts
Place tofu on an oiled or Silpat-lined baking sheet.  Sprinkle the barest hint of sea salt and pepper on each piece of tofu.  Then place one drop of soy sauce on each and rub in with your fingers to completely cover the top surface. Broil tofu or 5 minutes or until golden and slightly set.  Remove pan from oven, top each piece of tofu with about 1 generous tablespoon of Herb-Peanut Pesto, spread to the edges, and broil for another 2 minutes to heat and set pesto topping.
To serve:  spoon 1/4 of mushrooms and onions in the center of each serving plate.  Top with two pieces of broiled tofu, slightly overlapped.  Arrange Pickled Cucumber-Carrot Relish over the top and garnish as desired with a sprig of fresh herbs, wedge of lime, and/or sprinkling of chopped peanuts.  Serve immediately.
Herb-Peanut Pesto
(Note: at the Kroger where I shop, herbs are sold in .66 ounce containers and my garden herbs, other than rosemary and thyme, are not thriving yet, plus we can't grow cilantro well in our climate.)
.66 ounces fresh Thai or Italian basil (Thai basil is readily available in Asian markets)
.66 onces fresh cilantro
.66 ounces fresh mint
1 small (3 inches) mild to medium chili pepper, stemmed and seeded
1/2 cup lightly salted and roasted peanuts
1 large garlic clove
Juice of 1 small lime
2 tablespoons vegan fish sauce (sold as vegetarian at Asian markets)
1/4 cup olive oil
Sea salt (if needed) and freshly ground black pepper to taste
Place all ingredients except olive oil in a food processor and pulse until finely minced, scraping down sides of bowl as needed.  With motor running, drizzle in olive oil to form a pesto, scraping down sides of bowl onc eor twice.  Taste and season with salt and pepper if desired.  If time allows, chill until serving time.
Golden Shitake-Onion Saute
2 tablespoons olive oil
1/2 large yellow onion, thinly sliced
Pinch sea salt
10 ounces golden or regular shitakes, sliced about 1/4 to 1/3-inch thick
2 large garlic clove, minced
In a large cast iron skillet, heat oil over medium-high.  Add onion and a pinch of sea salt and saute, stirring frequently for a minute or two to soften.  Add mushrooms and saute for another two to three minutes or until they have cooked down and are beginning to turn lightly golden brown.  Add garlic and continue sauteing and stirring just for another 30 seconds.  Remove from heat.
Pickled Cucumber-Carrot Relish
1-8 inch cucumber, thinly sliced (I use a mandolin for this task)
3/4 cup baby carrots, finely chopped (I use a food processor for this task)
2 tablespoons apple cider vinegar
1 tablespoon demerara sugar (or granulated sugar)
1 tablespoon agave nectar
1/8 teaspoon sea salt
1/8 teaspoon freshly ground black pepper
1/4 teaspoon dried red pepper flakes or to taste
Gently toss together all ingredients, taste and adjust seasoning if desired.  If time allows, chill until serving time.