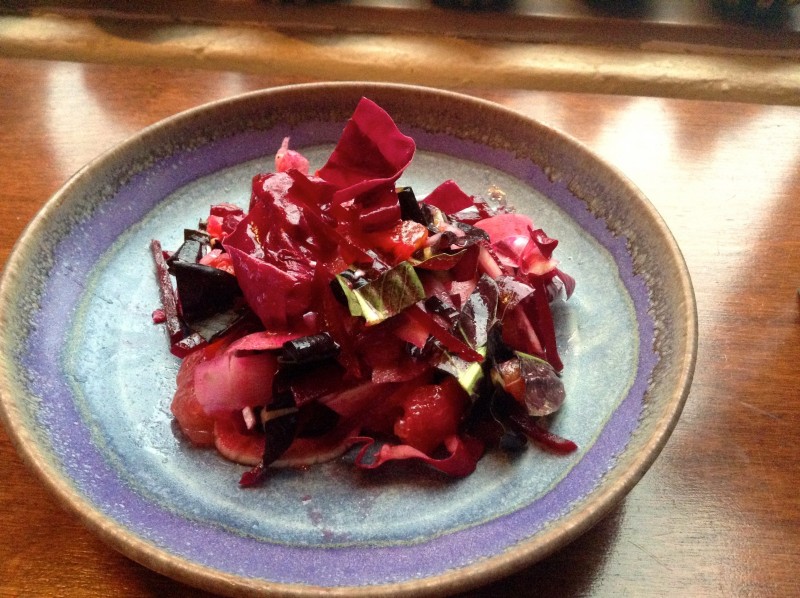 Yield 2 servings
Since I chose to make decadent (vegan) posts all week as my "Countdown to Valentine's Day 2015," when I received this delicious-sounding and -looking, heart-healthy recipe with an invitation to publish from Paulding & Company, I thought I'd share the love.
Paulding & Co. is a full catering kitchen, based in San Francisco, boasting vast opportunities for bonding and excitement founded by mother-daughter duo Tracy and Terry Paulding. The company is going RED for the month of February to support Women's Cardiovascular Health Awareness and, of course, Valentine's Day.
Their Valentine's Day Red Salad is a tasty treat packed with tons of flavor so we can all eat healthier with our sweethearts in 2015.
With "heart-felt" thanks to  Paulding & Co., here is their recipe:
Valentine's Day Red Salad
1 small red beet
1 small "cocktail size" grapefruit
1 small blood orange
1small head Treviso (red chicory)
½ cup finely shaved fresh fennel
Dressing
grated zest from the orange
1 tsp. finely minced shallot
1/8 tsp. dry mustard
2 tsp. sherry vinegar
1 tsp. lemon juice
1/8 tsp. salt, or more to taste
freshly ground pepper to taste
2 Tbs. extra-virgin olive oil
Steam the beet until tender, ½ hour for medium sized. When the beet is tender, cool, peel and cut julienne (if you slice it on a mandoline and then sliver the slices, you'll get even size pieces). Place in a bowl large enough for all the salad ingredients.
Zest the orange and set aside in a bowl. Completely peel the grapefruit and orange: first slice off the top and bottom, then stand the fruit on the cutting board and pare away the skin and pith in broad swaths. Slice or segment the orange, and segment the grapefruit (do this over a bowl, to catch the juice for the dressing).  Place the segments in the bowl with the beets.
Carefully wash and dry the treviso leaves, then slice cross-wise into slivers. Place in the bowl with the beets and citrus.
Wash the fennel, trim off any brown spots and surfaces. Using the stalks as a handle, thinly shave the fennel bulbs on a mandoline, being very careful of your fingers; if you don't have a mandoline, simply slice as thinly as possible with a sharp knife. Add the fennel to the chicories.
Make the dressing: combine the zest, minced shallot, mustard, vinegar, lemon, salt and pepper in the bowl with your captured grapefruit and orange juice. Whisk in the oil. Taste the dressing, adjust balance as needed with more vinegar, salt, etc.  Since the beets and fruit are sweet, you want the dressing a little more tart than a regular salad dressing.
Just before serving, toss the salad with some of the dressing, to taste. Finish with a light grinding of black pepper from the mill.