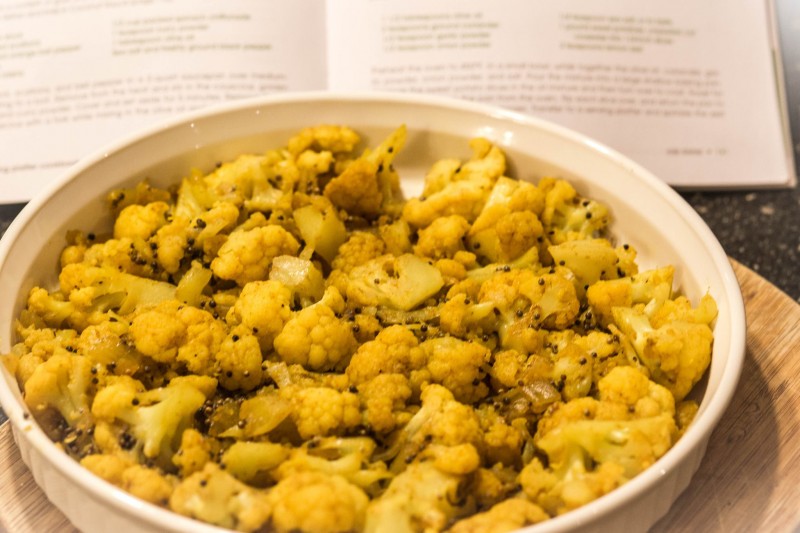 (A sequential installment from Kim Hastings, my photographer friend and, along with her vet husband, owner of Independence Veterinary Hospital, who decided on her own to cook her way through The Blooming Platter Cookbook: A Harvest of Seasonal Vegan Recipes Julie & Julia Style for her omnivorous family as a strategy for more healthy eating.)
Today I decided to tackle two recipes. In the interest of full disclosure, my reason for this was that I had doubts about both dishes so I figured if I didn't like the one then hopefully I would like the other.
So the first one is Indian Cauliflower with Black Mustard Seeds. Because I have put in my time at the grocery store spice displays, I had most of the spices needed…except for the elusive black mustard seed. I went to my usual stores and even went to Kroger which is out of my way, but I did it and got nothing. I even tried Target! I jokingly said that I could turn my own dang mustard seeds black – I'm a pro at burning things! So I ended up with regular mustard seeds. I followed along with the directions and while I am stirring the beautiful and now orange cauliflower (thanks to the turmeric), I was also stirring the "yellow" mustard seeds over high heat in the butter and oil.
I was feeling like a pretty accomplished cook stirring two pots at once and all of a sudden the mustard seeds started popping like popcorn – all over my arm and then all over the stove and counter tops! Who knew mustard seeds could do this?? There should have been a warning label! But seriously who tries popping mustard seeds? I quickly took it off the heat and looked in the pot and the remaining mustard seeds were, in fact, black. Well mission accomplished! There they are – black mustard seeds!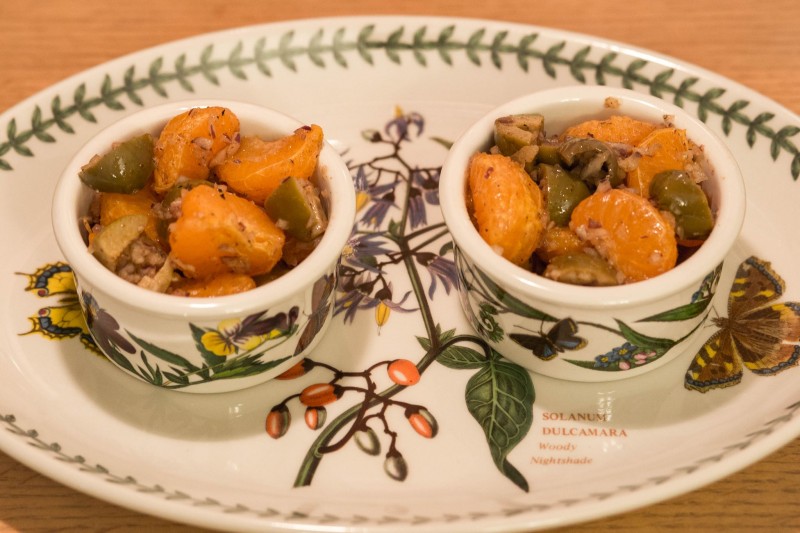 The recipe then said to "drizzle" the mustard seed mixture over the cauliflower – mine sorted of plopped over it in chunks but I spread them out to look like it was drizzled. While this one cooled a little I started on my next recipe – the Orange Salad with Cumin Vinaigrette. I gathered all the ingredients and discovered that the olives I had purchased especially for this from the olive bar at the grocery store were half gone. My husband admitted he just couldn't help himself. Ok so now I am cutting the recipe in half – not a problem! (I knew they wouldn't eat it anyway).
This recipe came together with no mishaps in about five minutes. It could not have been easier. The presentation was really pretty with the orange and green together. Now for the taste test. The cauliflower was good but it lacked the pizzazz of the other recipes according to my family. This was totally my fault for not using the correct mustard seeds and then only half the amount seeing as how the other half of the seeds were spread around my kitchen. The orange salad was really good but very intense so I decided I would add spinach leaves and make it more of a traditional salad. My guys would have nothing to do with this one (fruits have no place in their salads) so you'll just have to take my word on it.
And…if I ever see black mustard seeds I am buying them and trying this again- as long as they are not the price of cardamon or saffron that is.
~Kim Hastings