This time of year, Stoney's, the farm market I frequent, is a sea of pumpkins in a rainbow of fall colors, each one more appealing than the next.  And their wondrous shapes, some of them fanciful and even comical, give each its own personality.
As far as cooking them goes, they are often too big for any knife I own to cut through them, and here in the burbs, wooded though they may be, we don't own a hatchet.  So, imagine my delight when I was told they had  fresh raw pumpkin wedges–already seeded!–in their cooler.  It as that pumpkin that inspired this dish, but use whatever edible pumpkin your local purveyor recommends.
And, as for the pesto, I am always looking for ways to infuse my diet with additional leafy greens.  I'd never tried eating kale raw, but it is absolutely delicious when minced super-fine, as it is in this pesto.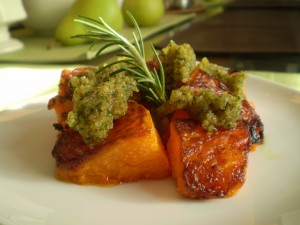 Yield: 4 servings as a side dish
3 pounds of fresh, seeded and skinned pumpkin flesh cut into approximately 1 x 2-inch hunks
1 tablespoon olive oil (or a combination of olive oil and walnut oil)
Sea salt to taste
Vegan Kale, Walnut, and Rosemary Pesto (recipe follows)
Garnish: sprigs of fresh rosemary and/or walnuts, chopped or halved
Preheat oven to 450 degrees.  Pour oil into a large metal roasting pan, add pumpkin, sprinkle with salt, and toss to coat, making sure that the bottom of the pan is coated with oil.  Roast pumpkin for 15-20 minutes, checking at 15, on one side, flip each piece and repeat.  Use a spatula to loosen pumpkin from pan at about the 10-minute mark if necessary.  Pumpkin should be lightly caramelized on two sides.  Add a little bit  more oil if pumpkin appears to be sticking, but avoid too much, as the pumpkin will steam instead of roasting.  Serve pumpkin dolloped or drizzled with Vegan Kale, Walnut, and Rosemary Pesto, and garnish with fresh rosemary sprigs and/or walnuts.
Vegan Kale, Walnut, and Rosemary Pesto:
1 cup fairly firmly packed torn kale leaves, thick or tough stems removed
1 cup chopped walnuts
1 large garlic clove
1 tablespoon fresh rosemary leaves
1 tablespoon nutritional yeast
Juice and zest of 1/2 of a medium lemon
1 to 2 teaspoons maple syrup
Sea salt to taste
Freshly ground black pepper to taste
1 /2 cup or more olive oil (up to about 3/4 cup or so)
Place kale in the bowl of a food processor and pulse until very finely chopped.  Add remaining ingredients, except olive oil, and pulse until kale is minced and walnuts are very finely chopped.  With motor running, drizzle in olive oil until desired consistency is reached.  Adjust seasoning, citrus and sweetness if necessary.  The pesto is equally good whether dolloped or drizzled over pumpkin hunks.  Store any leftovers in an airtight container in the refrigerator.