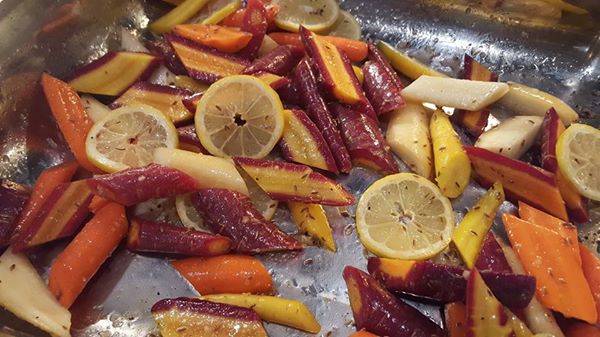 Yield: 8 servings
This Christmas, one of new traditions, I didn't make a single recipe for Christmas Dinner that I had ever made before.  All turned out to be new favorites, and none prettier than this delightful dish of roasted tri-color carrots (photographed pre-roasting).  Everyone knows that maple and mustard is a winning combination, but I think the secret ingredient is the sliced lemon that gets roasted right along with the carrots.
2 garlic cloves, finely grated
1/4 cup olive oil
1/4 cup pure maple syrup
2 large garlic cloves, minced
2 teaspoons cumin seeds
Sea salt and freshly ground black pepper to taste
2 1/2 pounds rainbow carrots, scrubbed, halved lengthwise, and then cut into two-inch pieces
1 lemon, thinly sliced, seeds removed
Preheat oven to 450° and lightly oil a large roasting pan. In a small mixing bowl, whisk together olive oil, maple syrup, garlic, cumin seeds, salt and pepper.  Place carrots and lemon in prepared pan, drizzle with oil mixture, and toss to coat.  Roast, gently stirring occasionally, until carrots are tender and lemons are caramelized, about 35 to 40 minutes.  You may roast the carrots several hours ahead, let them cool, cover and chill them.  About a half hour before serving time, bring them to room temperature and reheat for a few minutes in a 350 degree oven or in microwave.