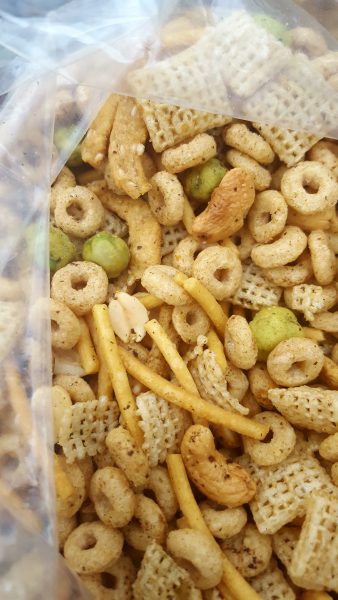 Every Christmas, my mother made a vat of her famous "Texas Trash" or what some folks know as "Chex Mix."  She has been gone for two Christmases now and, though my father and sister made a batch in 2015, none of us did this year. Perhaps that explains my near obsession of late with various iterations of this childhood favorite.  Although–and I mean no disrespect–she is probably "rolling over" at what I've done to her traditional recipe.  Mother never quite understood my endless adaptations.  If a recipe tasted good as it was, she saw no reason to tinker with it.
I feel quite the opposite.  So enjoy this version inspired by furikake, the Japanese seasoning wildly popular in Hawaii, that contains an indescribably addicting combination of seaweed, salt, sesame, and sugar, though I leave out the sugar because the wasabi peas have a slight sweetness to them.  If you have an aversion to heat, never fear because, though you'd think they would ignite your taste buds, the peas are really quite mild.   To round out the flavors, I add a few other "secret" ingredients like dried orange zest because there was a popcorn I loved, which I can't find anymore, that contained orange along with the traditional furikake flavors.  Plus, hardly a purist, I nod in the direction of China with a few of my other ingredients.
Contrary to what my mother may think, recipes are made to be adapted, so feel free to monkey with this one.  I won't take offense or shake my head like she would have.  But, I have to admit, it is darn good "right like" it is, as we say down south.
1 1/2 cups vegan butter (it sounds like a lot BUT this recipe makes a lot and this amount is needed)
2 teaspoons sesame oil
2 teaspoons soy sauce
2-1 ounce packages of a vegan Chinese seasoning pouch (I found one for "Beef and Broccoli" that was vegan and I loved the flavors, but any would do nicely)
2 teaspoons Nori powder (simply place torn pieces of Nori sheets in a coffee or spice grinder and grind until fairly fine)
2 teaspoons dried orange zest
1 to 2 teaspoons seasoning salt
8 ounces salted or lightly salted cashew halves and pieces
8 ounces sesame stick and nut mix (sesame sticks, peanuts, and cashews)
2-5 ounce packages Wasabi peas
1-5 to 6 ounce package Chow Mein noodles
1-14 ounce box Chex Rice Cereal
1-14 ounce box Cheerios (NOT the sweet ones)
Preheat oven to 250 degrees.  Place butter in large roasting pan and place pan in oven for a few minutes or until butter is melted.  Stir in sesame oil, soy sauce, seasoning packets, Nori powder, orange zest, and seasoning salt.  Add remaining ingredients in succession, gently stirring after each addition to coat with the butter mixture.  Roast for 45 minutes, gently stirring up from the bottom every 15 minutes.  Turn off oven, leave door closed, and let the mix sit for a final 15 minutes.  Remove from oven, stir well, allow to cool completely–it will crisp even more as it cools–and package for eating or giving.  Note: I don't find the mixture too buttery for an indulgent snack, but if you prefer to absorb a little of the oil, spread the mixture on brown paper bags or paper towels to cool.