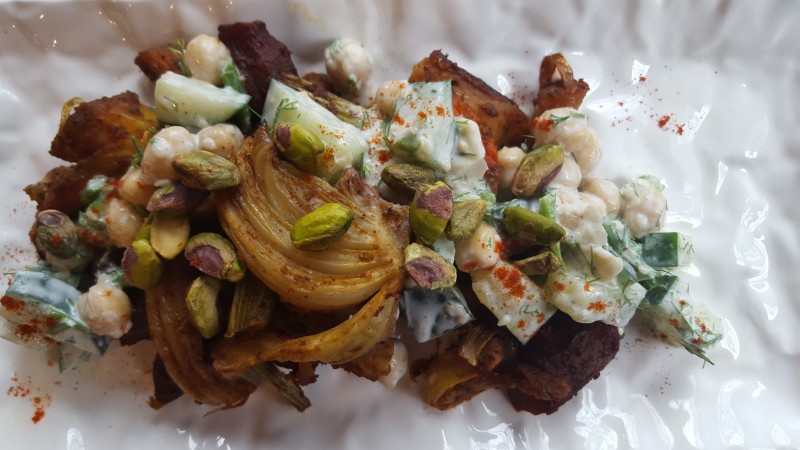 Yield: 6 servings
On Saturday, I found myself bringing home produce before I had even prepared produce from a Whole Foods run a couple of weeks ago.  Afraid that something would go bad before I could get to it, I just combined the beautiful tri-color carrots from the earlier trip with today's fennel bulb.  I also roasted golden beets, but in a foil pouch and I'm not yet sure what I'm going to do with those little beauties.
In the meantime, enjoy this lovely dish with it's mellow Middle Eastern flavor notes in either–or both–of two ways.  There are lots of tried and true carrot marriages, e.g. dill, mustard, orange, and maple.  But I wanted something a little different.  So, while I did include mustard and dried orange peel, I substituted tamarind syrup for maple and added several of my favorite Middle Eastern spices.  If you aren't able to find tamarind or pomegranate syrup, maple will be tasty; and fresh lemon zest–say 1/2 teaspoon– is a fine substitution for sumac, just not quite as earthy.
As you can see below, the carrots are a beautiful side dish and I hope you'll trust me on the taste.  However, yesterday, home form school for President's Day, I wanted a lunch of the carrots, but with some protein.  Remembering that I had purchased a cucumber on Saturday and had some chickpeas and vegan sour cream on hand (here, no one sells unsweetened vegan yogurt), it occured to me that, combined, they would make a luscious and fresh-tasting protein-packed sauce for the carrots.  And they were.  Enjoy these beautiful roots as a side or a main dish and you'll be blissfully content either way.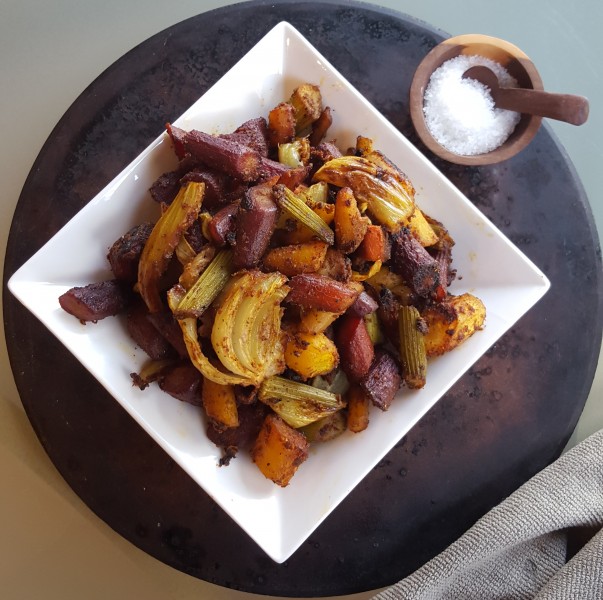 1 fennel bulb with stalks
1 pound tri-color carrots (or any carrots, really), trimmed, peeled, and cut into 1-inch pieces on the bias
1 tablespoon olive oil
Sea Salt
Freshly ground black peopper
1 tablespoon tamarind or pomegranate molasses
1 tablespoon whole grain mustard
1 teaspoon dried coriander
1 teaspoon ground cumin
1 teaspoon dried orange peel
1 teaspoon smoked paprika
1 teaspoon sumac
1/2 teaspoon garlic powder
1/4 teaspoon turmeric
4 cloves garlic, halved
Optional Cucumber-Chickpea "Yogurt" Sauce (recipe follows)
Optional Garnish: reserved fennel fronds, whole or chopped pistachios, and smoked paprika (note, if you serve the carrots with the sauce, stir the fennel fronds into it and garnish with the pistachios and smoked paprika)
Preheat oven to 450 degrees.  Remove fennel fronds from stalks, finely chop, and store, covered, in the refrigerator.  Trim stalks from fennel bulb and cut into 1-inch pieces on the bias.  Cut bulb in half and then slice each half into 6 to 8 wedges, about 3/4-inch thick at the widest part. Drizzle 1 tablespoon olive oil into a large roasting pan.  Add fennel stalks and bulb wedges, carrots, and about 1/2 teaspoon sea salt adn 1/4 teaspoon black pepper.  Stir well to coat vegetables with oil.  Roast for 30 minutes, stirring every 10 minutes.  Whisk together molasses, mustard, corander, cumin, orange peel, smoked paprika, garlic powder and turmeric.  Drizzle over vegetables, add garlic, and stir to coat.  Roast another 10 to 20 minutes, stirring after 10, or until desired degree of caramelization is achieved.  (I like a lot of caramelization, so I roast them another 20, but be aware that the sugar content in the syrup means that too they will scorch more easily after it is added.)  Check for seasoning and stir in more salt and pepper if desired.  Serve warm or at room temperature garnished, if desired, with the reserved fennel fronds,  pistachios, and smoked paprika, or topped with the Cucumber-Chickpea "Yogurt" Sauce and garnished as desired.
Cucumber-Chickpea "Yogurt" Sauce
1/2 cup vegan unsweetened yogurt or sour cream
1 can chickpeas, rinsed and drained
1-7 to 8-inch cucumber, diced
Reserved finely chopped fennel fronds
1/8th teaspoon garlic powder
Pinch sea salt and freshly ground pepper
In a medium bowl, fold together all ingredients until well combined and chill in the refrigerator, covered, until serving time.