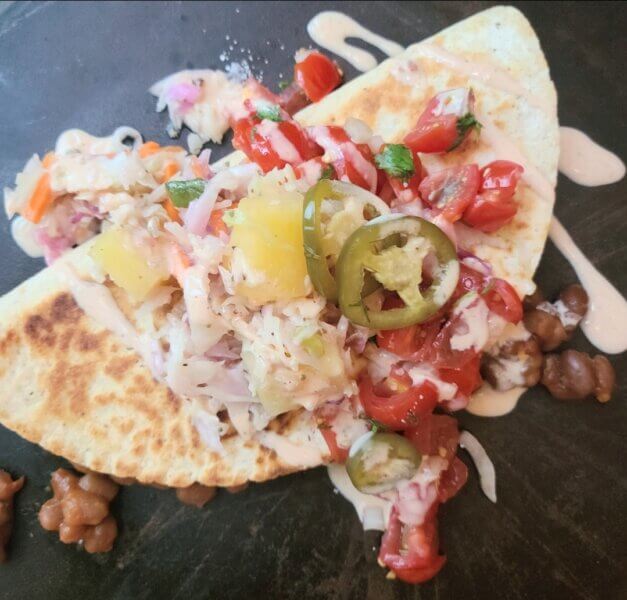 Independence Day in the US is July 4. With leftover barbecue beans and slaw–standard menu items–but not wanting to enjoy them the same way we had on the holiday, I decided to make a quesadilla which I joking call Feedom Fusion, a blend of this American holiday fare with a favorite Mexican preparation.
There is no real recipe here. I just used the beans as the filling and the vinegar-based slaw on top. The beans were a jazzed up version of canned barbecue beans with ketchup, mustard, molasses, brown sugar, vinegar, and garlic and onion powders, baked at 350, uncovered, for an hour.
The slaw was similarly simple: vinegar, escabeche brine, garlic and onion powders, celery seed, sea salt and pepper, etc.
I found a 10″ tortilla in Kroger that is only 50 calories, which really appeals to me, though it may not matter to you. They are billed as high fiber and I cannot tell the difference between them and the 150 calorie version except they may be a little thinner, which is great by me.
I simply sprayed my skillet with nonstick spray, laid the tortilla in the skillet, spread the beans over half, folded it over, and cooked it for a couple of minutes on each side over medium heat. I then piled the slaw on top, drizzled it with no-calorie ranch dressing from Walton Farms that I had been sent to sample, and topped it with halved cherry tomatoes, pineapple chunks, and some jalapeño slices that were still floating in the escobeche brine, a homemade version gifted from Betsy Hardy, a dear friend.
That's it: a flavor combo more explosive than Fourth of July fireworks.
#vegan #veganrecipes #veganfoodshare #veganfoodporn #plantbased #plantbasedrecipes #plantbasedfoodshare #plantbasedfoodporn #vegansofinstagram #vegansoffacebook #vegansofvirginia #plantbasedquesadilla #veganquesadilla #plantbasedjuly4 #veganjuly4 #plantbasedmexican #veganmexican