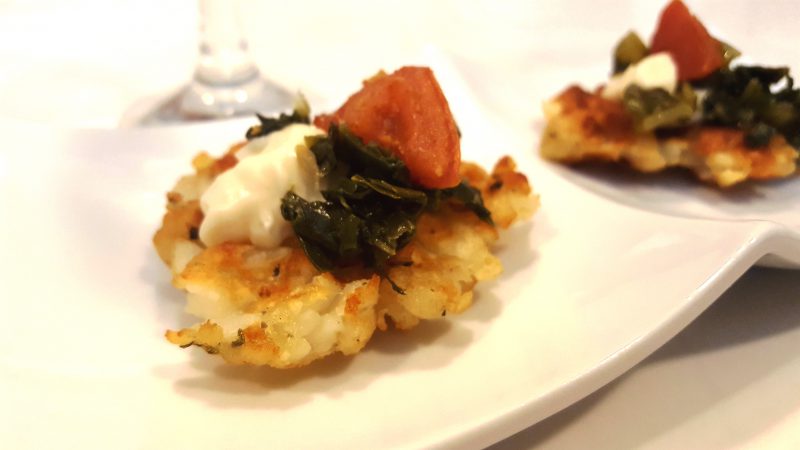 Yield: 4 mini-waffles (recipe easily multplies)
[At bottom, I include instructions for one large waffle.]
Last week, eyes wide, a colleague brought down to my classroom a culinary magazine featuring a San Francisco restaurant specializing in Tater Tot Waffles.
Why didn't I think of that?
Basially, anything is better atop a Tot it seems, so while this chef's toppers tended to be fish-and meat-centric, I figured a crispy-on-the-outside, fluffy-on-the-inside potato base would be irresistable with anything–or nothing–on top.  And I was right.
I looked up a recipe pretty sure that Tater Tot Waffles are a thing–and they are–and followed it to the letter using Alexia's Potato Puffs with roasted garlic and cracked black pepper.  I have nothing against good 'ole Ore-Ida, but I found myself at Whole Foods, and Alexia's the brand they stock.  But it took almost one bag–or 5ish servings–to make one waffle, which Bob and I split 3/4 to 1/4, and that's a bit too much of a good thing.
So, tonight, with him out to dinner with his brother and me craving more of this crisp-and-slightly-greasy goodness, but not very hungry, I wondered if I could make Mini-Tater Tot Waffles.  Indeed!  They cook up brilliantly, are easier to remove from the waffle iron, and lend themselves to party fare or to the tapas-style meals I prefer.  Plus, just last night I had sent out invitations to the Starlight Supper Club gathering that Bob and I are hosting on March 4 and included Mini-Thai Tater Tots, so I figured I better make certain the concept actually worked.
Boy does it!  Having gone out for Ethiopian food on Saturday night and brought home leftovers, I decided to top mine with a tiny spoonful of the collard greens and a little piece of cooked tomato with a dab of vegan mayo for color and creamy contrast.  Wow!  But top them with anything you choose, savory or sweet..
Mini-Tater Tot Waffles
16 tater tots (I used Alexia brand Potato Puffs with roasted garlic and cracked black pepper)
Nonstick cooking spray
Savory or sweet toppings of choice (vegan greens, cheeses, spreads, salsas, tapenades, syrups, citrus curds, nuts, etc.)
Spray electric waffle iron with nonstick spray and preheat.  Meanwhile, place tater tots in a bowl and place in microwave on full power for a minute to two to thaw.  Place 4 tater tots, 2 sides of each one touching, in 1 layer of each quadrant of the waffle maker.  Close lid, gently press, and cook for about 5 minutes or until crispy and golden.  Carefully remove each waffle to a serving platter or plates, top as desired, and serve immediately.
Note: to make one large waffle, follow directions above except thaw about 4 to 5 servings of Tater Tots and use them to completely cover the surface of the waffle iron.  Cook 8 to 10 minutes.  You can check after about 5 minutes and fill in any holes with additional thawed tater tots if desired.