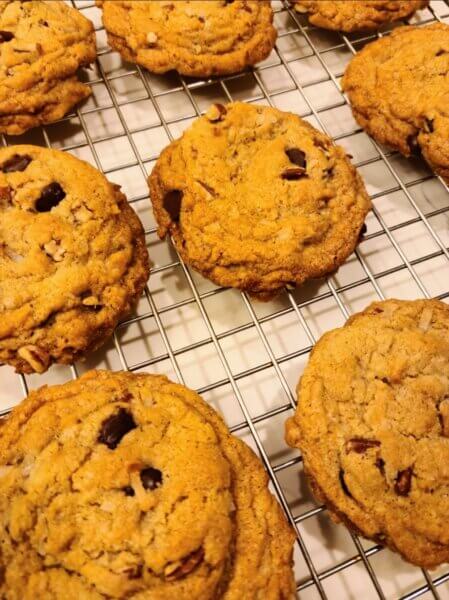 Yield: 1 dozen (easily multiplies)
The secret to the irresistible texture of these cookies is melting the vegan butter, but not the shortening and forming them using the double scoop method.
1/4 cup vegan butter (I like Miyoko's), melted
1/4 cup vegetable shortening
1/4 cup granulated sugar
1/4 cup brown sugar
1/2 teaspoon vanilla extract
1/4 teaspoon almond extract
1/2 teaspoon baking soda
1/4 teaspoon sea salt
1/4 teaspoon ground cinnamon
1 cup + 2 tablespoons all purpose flour
2 tablespoons nondairy milk
1/4 cup each chocolate chips, shredded coconut, and chopped pecans
Preheat oven to 350 degrees. Line baking sheet with Silpat or parchment paper. Cream together butter and shortening on high speed of electric mixer. Beat in both sugars until fluffy. On low speed, beat in extracts, soda, salt, and cinnamon. Then beat in flour and non-dairy milk, scraping down sides of bowl as necessary. Next add chips, coconut, and pecans. With a 2-tablespoon cookie scoop, make 10 to 12 mounds of dough, 2 inches apart. Then repeat with a second scoop, only nestle the second ball of dough right on top of first one, pressing down firmly to create a kind of tophat form. Bake 13 minutes or until golden brown. Cool and store in airtight container.