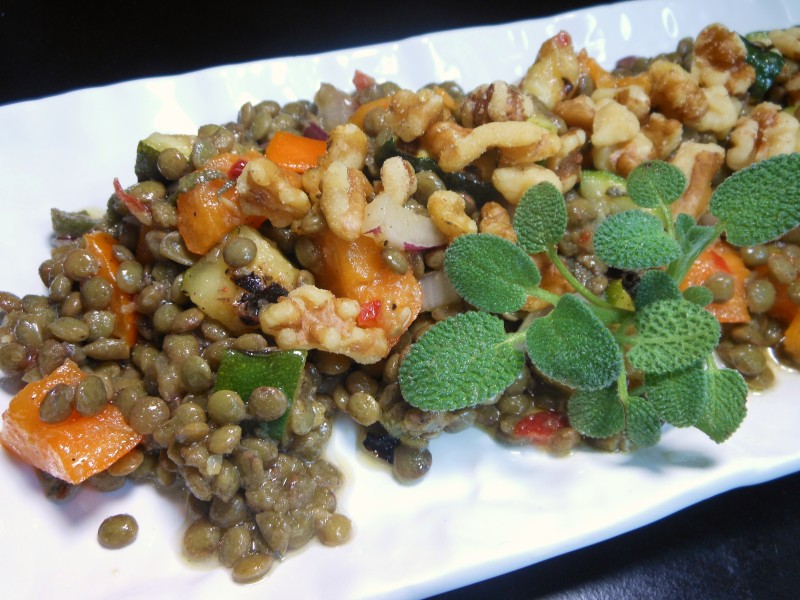 Yield: 6 servings
I discovered a brand new and brilliant way to cook lentils, courtesy of America's Test Kitchen: brine them to soften the skin and then bake them in a dutch oven so they don't crash together and break apart while they simmer.  You can find their method HERE, along with some tasty salad ideas. (Note: I obviously didn't use chicken broth.  I could have used vegetable broth, but water worked yielded lentils full of flavor.)
After trying that method, I had a beautiful bunch of them with which to do something.  I also had local red onion, zucchini and orange Roma tomatoes from my trip to the farm market.  There was nothing left to do but combine everything into a salad!
I wanted a special, but simple, dressing–some kind of vinaigrette–but I wasn't sure what.  Scanning the door of the fridge, my eyes alighted on an unopened jar–a gift–of pepper jelly made here in Virginia.  Voila!  Then, mentally reviewing the herbs in the garden, sage somehow sounded perfectly earthy and just the right note to counter the heat of the jelly.  Voila again!  But it seemed like it needed one more "warm"  spice.  The barest hint of clove or mace was just exactly right.
This combination of ingredients makes this recipe the perfect celebration of late summer (salad) while looking forward to the cool months ahead (dressing) because I always think of pepper jelly and sage in conjunction with the festive flavors of the winter holidays.
3 cups cooked French lentils
1/4 cup diced red onion (if desired, cover with  soymilk and drain before using to remove a little of the bite)
2 orange Roma tomatoes, diced (red is fine; the orange ones were just so beautiful at the farm market)
1 6-inch zucchini, sliced in thirds lengthwise, lightly salted, grilled 2 to 3 minutes on each side, cooled, and diced (I used my Lodge indoor grill pan over medium-high)
Sea Salt to taste (don't be stingy!)
Freshly ground black pepper to taste
Pepper Jelly-Sage Dressing (recipe follows)
In a large bowl, toss together all ingredients except dressing.  Check for seasoning and adjust if necessary.  Drizzle with dressing and gently toss to evenly distribute.  Serve immediately, or cover and refrigerate to allow flavors to marry before serving.
Pepper Jelly-Sage Dressing:
1/4 cup pepper jelly (I use a locally made brand)
2 tablespoons apple cider vinegar
1/2 teaspoon mustard
6 tablespoons olive oil
Pinch sea salt
Pinch freshly ground black pepper
Pinch garlic powder
Tiny pinch of ground clove or mace (a bare hint is all you want but it adds a little somethin'-somethin'!)
3 tablespoons fresh sage, minced or chiffonade (I like the latter, simply stack and roll 3 to 4 leaves and thinly slice into tiny ribbons)
In a small bowl, whisk together pepper jelly, vinegar, and mustard.  Whisk in olive oil in a slow stream and keep whisking until it emulsifies (thickens and comes together).  Add salt, pepper, garlic powder and clove or mace to taste and then whisk in sage.