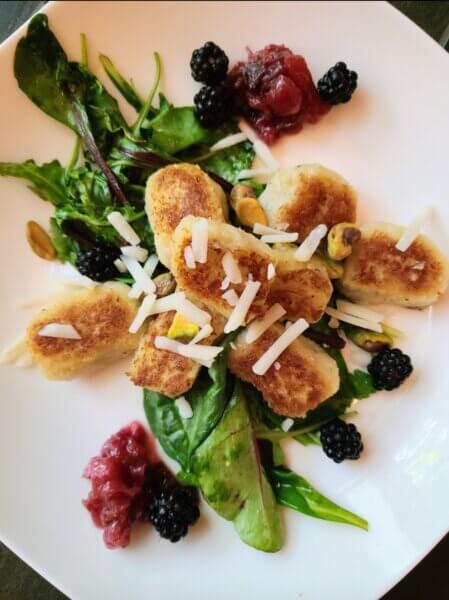 I think I have perfected the lightest, tastiest, and most lovely textured gnocchi with only 1/4 cup flour and 1 tablespoon cornstarch. All the rest is pureed cauli and spices.
Gnocchi Dough:
8 ounces riced, cooked cauliflower, pureed in food processor, and chilled until cold (I steam in bag in microwave), about 3/4 cup
1/4 cup flour
1 tablespoon cornstarch
1/4 to 1/2 teaspoon sea salt
1/8 teaspoon garlic powder
1/8 teaspoon onion powder
1/8 teaspoon ground black pepper
Optional: 1 tablespoon olive oil
Bring a medium saucepan filled with salted water to a simmer. Meanwhile, blend all ingredients together with a fork in medium bowl. On cutting board, roll one-fourth of dough at a time into a rope, 3/4-inch in diameter. Slice into 1-inch pieces for a total of 12 to 14. Add to simmering water and cook until gnocchi float. While gnocchi cook, heat olive oil or nonstick spray in skillet, preferably nonstick, over medium heat. Remove gnocchi with a slotted spoon to skillet and cook a couple of minutes on each side or until golden brown.
Serve as desired, 6 to 7 per person. I like to place the gnocchi over a bed of lightly sauteed baby spinach with dabs of fruit chutney, foraged blackberries, pistachios or pine nuts, and a few grates of vegan mozzarella, or with sauteed fresh green peas, diced shallot, sliced garlic, white wine, and lemon zest.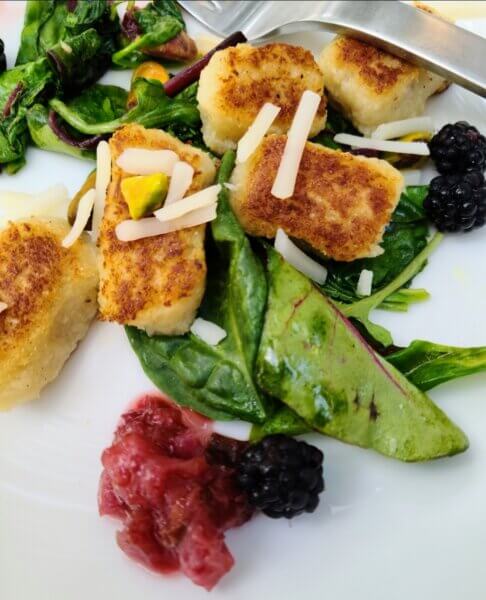 #vegan #plantbased #veganrecipes #veganfoodshare #veganfoodporn #plantbasedrecipes #plantbasedfoodshare #plantbasedfoodpornvegansofinstagram #vegansoffacebook #vegansofvirginia #vegangnocchi #plantbasedgnocchi #vegancauliflower #plantbasedcauliflower