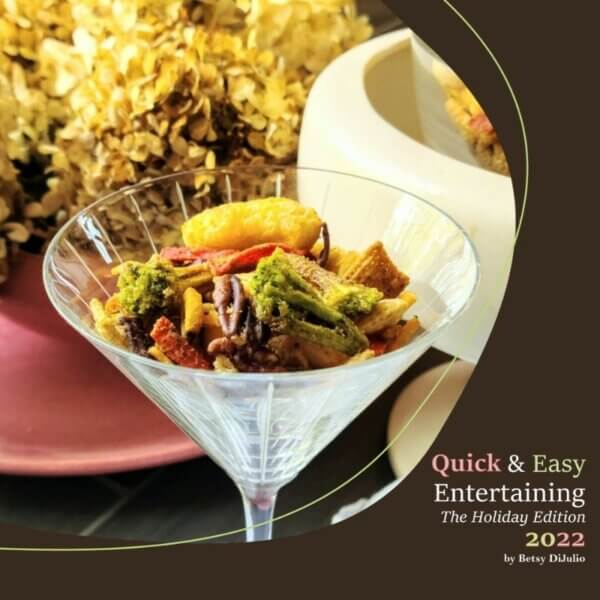 As many of you know, Tofutti hired me last spring to create tasty content for them, a side hustle made for me if there ever was one!
I also love my day job as an art teacher in the Upper School at Norfolk Academy in Norfolk, VA, so when school let out last June, I went on a recipe development bender over the summer. You can access those recipes which have been published on the Tofutti site's recipe blog. But there are many more in the can, as they say!
I backed off my flurry just a little once school started back in August but, for the most part, I have continued to create recipes, stage and photograph the finished dishes, and work on various special projects of which this eCookbook is my favorite.
Please note that, while I am paid a contract fee by Tofutti, the eCookbook is NOT monetized, so I am not promoting it for $$. Rather, I love these recipes, think the book is so beautiful to page through, even digitally, and wanted to share with you.
In Quick & Easy Entertaining: The Holiday Edition, you will find
Mex Chex Mix
Cream Cheese Pecan Balls
Turnip Greens, Red Beans & Vegan Sausage Soup
Roasted Butternut Squash, Arugula & Candied Pecans
Savory Vegan Sausage & Rice-Stuffed Microwave Baked Apples
Oatmeal Streusel-Stuffed Microwave-Baked Apples
Mini No-Bake Pecan Pie Cheesecakes
Mini No-Bake Pomegranate Cheesecakes
To access your book, simply click on the link below which will take you to a pretty page where you enter your email address and submit. You will receive your eCookbook via email right away. And, not to worry: you will NOT be inundated with email from Tofutti…or me!
Quick & Easy Entertaining: The Holiday Edition 2022 (mailchi.mp)
Once you have downloaded the eCookbook, you could certainly send it to friends, but we would love it if you would send them the link so that we know how many people are accessing it. And please share on your social media. The more the merrier.
We'd love to know what you think, as well as what other cookbook topics might interest you. We hope you love this little gift from us to you.
Cheers!
~Betsy