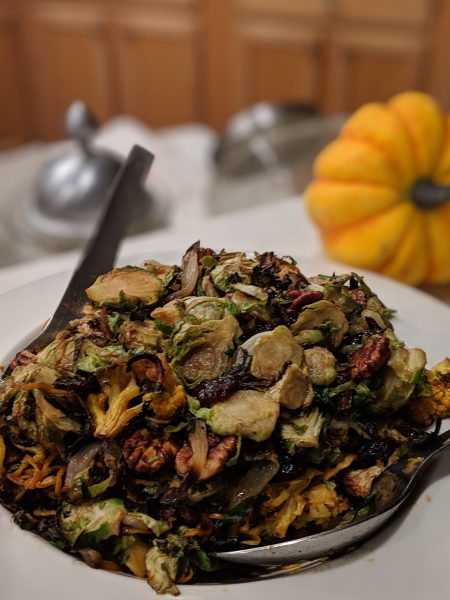 This was a favorite dish at our Friendsgiving this year…but it is too special–and easy–for a once-a-year feast.  Celebrate often!
Approximately 6 cups roasted vegetables (Roast on a rimmed baking sheet, two to four vegetables at a time, tossed with a very small amount of olive oil and sea salt at 425 degrees for approximately 20 minutes, stirring halfway through–be sure vegetables are in one layer–and cool completely.)
2 tablespoons Cointreau
2 tablespoons maple syrup
2 tablespoons balsamic vinegar
1 large clove garlic, minced
1/4 cup dried cherries
1/4 cup pecan halves, toasted at 350 degrees for 5 minutes
Place all vegetables in a large bowl.  Whisk together Cointreau, maple syrup, balsamic vinegar, and minced garlic in a small cup.  Drizzle over vegetables, add dried cherries and toasted pecans, toss well, and serve immediately.  You may roast and cool the vegetables a few hours or a day in advance.  Cover and refrigerate until ready to use.  Add dressing, dried cherries, and toasted pecans just before serving.