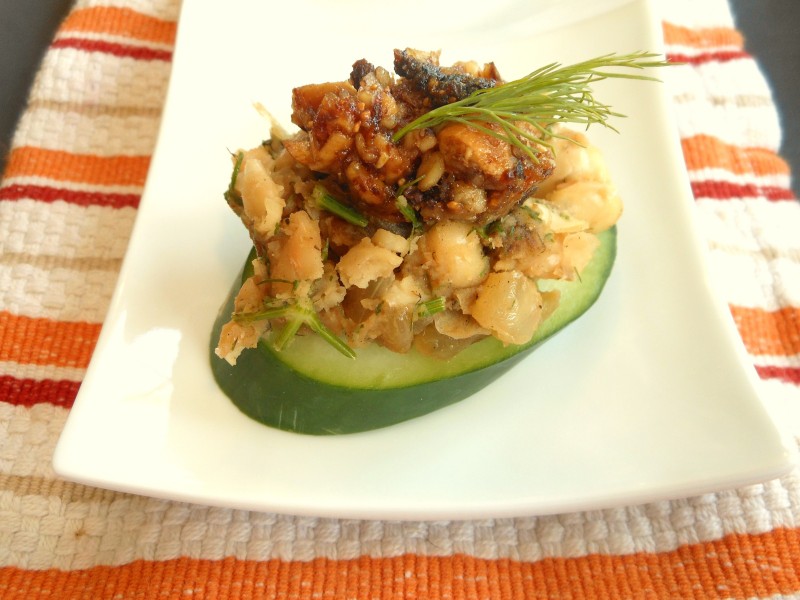 For our 10th anniversary, my husband and I took a Mediterranean Cruise, one of a number of life-changing trips to that magnetic part of the world from where his family hails (specifically, the Abruzzo region of of Italy).  I fell in love repeatedly, including with Santorini.
My dish, created especially for the Yummy Food-Canarias Recipe Competition, is an ode to one of the most memorable and simplest "meals" I have ever eaten.  We had spent the morning touring an ancient archeological dig on the island and had stopped at a cliffside vineyard overlooking  the stunning atoll.  There, in the wind-whipped courtyard, we were served wine, of course, accompanied by crisp fresh cucumber, olives and tomatoes.  That was it. Simple perfection.
Since it is January and tomatoes are not in season, I chose instead to celebrate the cucumber and the olives, adding my beloved figs and pine nuts plus a little lemony brightness along with herby dill-scented cannelini beans for protein .  The result is a simple little Mediterranean-infused bite-size meal.
Yield: 24 canapes or 8 servings
2 tablespoons olive oil
1 medium yellow onion, diced
Sea salt
Freshly ground black pepper
1 large garlic clove, minced
1-15.5 ounce can cannelini beans, rinsed and drained
1/4 cup loosely packed finely chopped fresh dill
16 dried Calmyra or Mission figs, stems removed, halved (I like to use 8 of each)
1/4 cup brine-cured pitted black and green olives, drained (I like some that are a little spicy)
3 ounces toasted pine nuts
1 teaspoon tamarind syrup (you may substitute pomegranate syrup or agave nectar)
Zest of 1/2 large lemon
Garnish: fresh dill sprigs
Cucumber slices (or toasted bread rounds/crackers)
Heat 1 tablespoon olive oil in a large cast iron skillet over medium-high.  Add onion and a pinch of salt and pepper and saute, stirring frequently, until onion begins to turn golden, about 8 to 9 minutes.  Reduce heat if necessary to prevent scorching.  Add garlic and saute, stirring constantly, for another minute.  Stir in beans and remaining tablespoon of olive oil, partially mashing the beans with the back of the spoon.  Add dill and remove from heat.
Process figs in a food processor, pulsing until coarsely chopped.  Add olives, and continue pulsing until both are finely chopped.  Add pine nuts and pulse a few more times or until all ingredients are very finely chopped.  Add syrup, lemon zest, and additional salt and pepper if desired, and pulse just to combine.
Serve a spoonful of the beans topped with a spoonful of the tapenade on cucumber slices, toasted bread or crackers.  Garnish with sprigs of fresh dill.
Alternative serving suggestion: spread the beans into a 1/2-inch thick disk on a serving plate, spread the tapenade over the top, garnish, and serve with cucumber slices (or toasted bread/crackers).