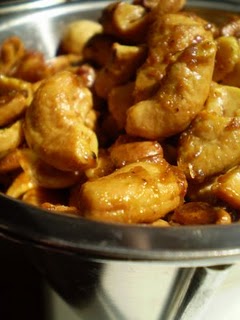 Yield: 1 pound nuts
I first tasted these nuts at a party at our gym. Marla, one of the employees, brought them to our holiday potluck and they were a huge hit. The original recipe, made with rosemary, came from Ina Garten, The Barefoot Contessa.
However, a happy accident led Marla to an adaptation of the recipe which, in turn, led to mine. Marla was transporting the nuts in a cooler to her family's house, several states away, at the holidays. She arrived to find to her horror that water had sloshed into the container of nuts. Undeterred, she put them in the oven to dry them out and she liked the result so much that, now, when she makes a batch, she spritzes them with water during the roasting process.
Too lazy to spritz, I decided to add a little water at the beginning, as my only criticism of the original recipe was that the brown sugar never fully dissolved and didn't adhere to the nuts quite as much as I would have liked. It works beautifully and, as Marla first discovered, results in an ever-so-lightly "candied" nut. (Don't think cloying, overly sweet, too heavily coated, as they definitely are NOT.) When you remove the nuts from the oven, they may appear a little sticky or gummy. But, never fear. As they cool, they crisp right up and you can just gently break up the clusters–or leave them "right like they are" (as my friend Tammy would say)–as you transfer them into a container.
I bought a three pound can of cashews and a three pound sack of walnut halves at a wholesale club recently and experimented quite a bit. For the most part, Ina had it right: the cashews seem to make a better product than the walnuts, and fresh herbs like basil and tarragon mostly lose their flavor in the roasting process. However, I had also wondered about using dried ground spices in place of the fresh herbs and discovered, to my delight, that curry powder is the ticket. (The nuts in the photo are the curry variety.) Both flavors make terrific holiday or host(ess) gifts.
One final note: if you make several batches in succession, I would advise changing pans, as the little bits on the bottom become too dark with repeated roastings resulting in a burned-tasting product. I had to feed my last batch of walnuts the birds.
1 tablespoon vegan butter (I like Earth Balance)
2 tablespoons brown sugar
2 tablespoons water
the leaves from approximately 5 stalks of rosemary, minced
OR 2-3 teaspoons ground curry powder (or the dried ground spice of your choice)
1 teaspoon kosher salt
pinch cayenne pepper
1 pound cashews or cashew halves and pieces
Preheat oven to 400 degrees. Place all ingredients except the cashews in a 9 x 13″ metal pan, choosing either the rosemary or the curry powder. Place the pan in the oven just until the butter melts. When melted, carefully remove the pan from the oven and add nuts, stirring to coat evenly. Roast for 8-10 minutes, stirring twice during that time. Remove from oven and spoon onto a baking sheet into a thin layer to cool. When nuts are room temperature, gently break them apart as you place them into an airtight container.