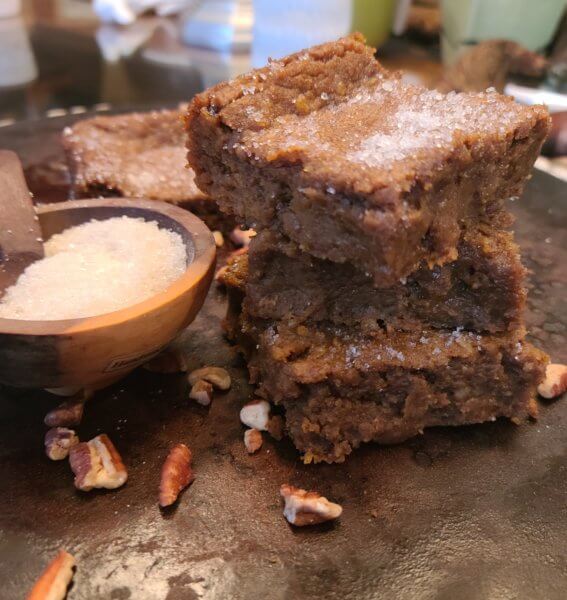 Yield: 9 bars
These treats are all fall!
Gluten-free (as long as your oats are gf) with no added oil, these bars are insanely moist and deeply flavorful.  Plus they go together in a snap in the bowl of your food processor.  Rich and decadent tasting, they are packed with protein, vitamins, and fiber, but bear no resemblance to health bars. 
You can substitute almond butter for pecan butter, but why would you?! Pecan butter is the perfect autumnal complement to the other fall flavors.
1-15.5 ounce can chickpeas
1 cup canned pumpkin
2/3 cup sugar
1/2 cup pecan butter
1/2 cup almond flour
1/4 cup rolled oats
1/4 cup maple syrup
2 tablespoons cornstarch
1 tablespoon pumpkin pie spice or to taste (or substitute a mixture of ground cinnamon and ground ginger)
2 teaspoons vanilla extract
1 teaspoon baking powder
1/2 teaspoon baking soda
1/2 teaspoon salt
Optional topping: 2 tablespoons sugar
Preheat oven to 350 degrees.  Grease an 8″ square pan. Process all ingredients except topping in food processor until smooth, scraping down sides of bowl as necessary.  Transfer batter to prepared pan, smooth top, and bake for approximately 40 minutes or until a toothpick inserted in center has only a few moist crumbs clinging to it.  Remove from oven and sprinkle liberally with remaining 3 tablespoons of sugar.
#vegan #veganrecipes #veganfoodshare #veganfoodporn #plantbased #plantbasedrecipes #plantbasedfoodshare #plantbasedfoodporn #veganpumpkinbars #plantbasedblondies
#veganblondies
#plantbasedpumpkinbars
#veganpumpkinblondies
#veganpumpkinblondies