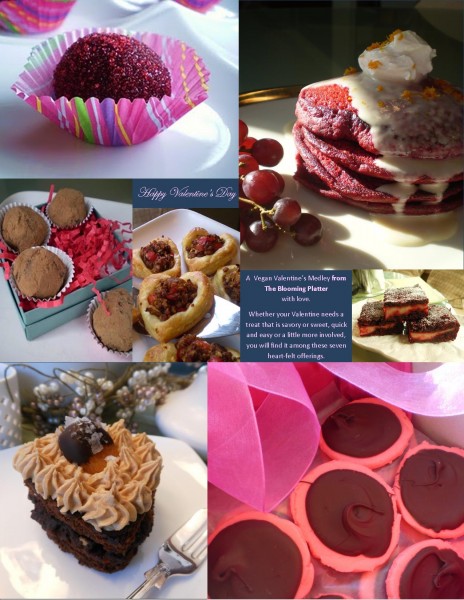 Picking a favorite of my Vegan Valentine's Recipes to post would be like picking a favorite dog.  So, I want you to pick.
From a breakfast of Red Velvet Pancakes to Red Velvet Brownies for kids or a little savory "Heart Tart" for lunch or dinner–plus lots of sweets, including mints and truffles that are perfect little heart-felt gifts from your kitchen–I think you'll find something here to love.
Just click on the links.
Happy Valentine's Day!
~betsy
Clockwise from top-left:
Vegan Chocolate Truffles–created when I was disappointed with other recipes I found online.
Vegan Red Velvet Pancakes (THE BEST!)–I created these when I was dissatisfied with all of the recipes I could find online.
Vegan Red Velvet Brownies–VERy popular on One Green Planet and, again, created when I couldn't find what I wanted after searching online.
Vegan Peppermint and Chocolate Patties–peppermint and chocolate, a marriage made in heaaven, so pretty layered in a ribbon-tied box.
Vegan Chocolate Heart Cakes–the apricot-hazelnut ganache filling is sophisticated, but simple, and the espresso-cream cheese frosting a sweet dream.
Vegan Cocoa-Dusted Chocolate Truffles–bittersweet bliss.
Vegan Savory Heart Tarts–they look fancy, but are so flavorful and easy with prepared puff pastry (center).