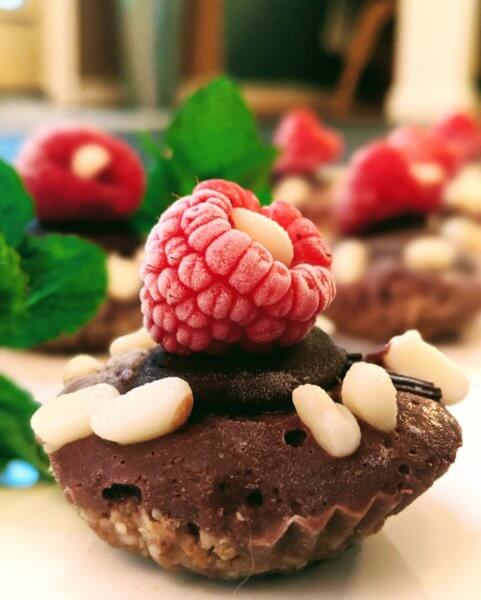 Yield: 1 dozen
These right here are a little blast of summer!
If it is extra hot, as it is here in Southeastern Virginia this July, pop these babies in the freezer for a bit before serving. They will cool you right down and perk you right up.
A note about the garnish: I sprinkle my tarts with mini white chocolate chips, but if you don't have any, just sprinkle with a little powdered sugar for a bit of color contrast. The little bites of white chocolate are nice, but probably not worth making a special purchase. If you use the powdered sugar, be sure to dust the tarts just before serving.
1/2 cup pecans, plain or toasted
1/2 cup shredded coconut (I like unsweetened)
1/4 to 1/2 cup dates or dry figs, stemmed (this may sound like a big difference, but it depends on how moist the fruit is)
Pinch sea salt
Vegan Chocolate Mousse (recipe follows)
Vegan Chocolate Ganache (recipe follows)
12 fresh raspberries, rinsed and patted very dry
Approximately 2 tablespoons mini vegan white chocolate chips or powdered sugar
Garnish: fresh mint sprigs
Place 12 mini muffin cups liners in muffin tin. in food processor, a small one if you have it, process together pecans, coconut, and one quarter cup of figs or dates, and salt. Process until the mixture starts to hold together. If It holds together when pinched between your fingers, it is the right consistency. If not, keep adding figs or dates, one or two at a time. Divide mixture among lined muffin cups and press into bottoms. Fill each with chocolate mousse. (If there is any mousse left over, spoon into a carton and chill, covered, for another use.) Refrigerate for an hour or so and then prepare chocolate ganache, swirling about 1/12 of the mixture in the center of each tart. While ganache is still soft and pliable, press a raspberry gently into the center and garnish with white chocolate chips. Return to refrigerator until chilled through. If using powdered sugar, dust just prior to serving. Serve with mint sprigs if desired. For a quick cool-down treat, freeze the tarts for about a half hour before serving.
Vegan Chocolate Mousse (easily doubles):
8 ounces firm or extra-firm tofu (if you purchase blocks in 14 ounces rather than 16, use half or 7 ounces)
6 ounces vegan chocolate chips, melted and cooled slightly
1/4 cup sugar
1 teaspoon vanilla
1/2 teaspoon almond extract (it masks the slightly off-taste of silken tofu)
Pinch sea salt
Optional: 1 tablespoon raspberry liqueur
Place tofu in bowl of large food processor and process until creamy. Add remaining ingredients and process until smooth, creamy, and completely combined, scraping down sides of bowl as necessary. This mousse sets up quickly and can also be served on its own or as a cake filling.
Vegan Chocolate Ganache:
2 tablespoons non-dairy milk, half-and-half or creamer
1/4 cup vegan chocolate chips
Heat non-dairy milk in small cup in microwave or until very warm. Whisk in chocolate chips and let cool until very spreadable, but not warm enough to melt mousse.
#vegan #veganrecipes #veganfoodshare #veganfoodporn #plantbased #plantbasedrecipes #plantbasedfoodshare #plantbasedfoodporn #vegantarts #plantbasedtarts #veganchocolate #plantbasedchocolate